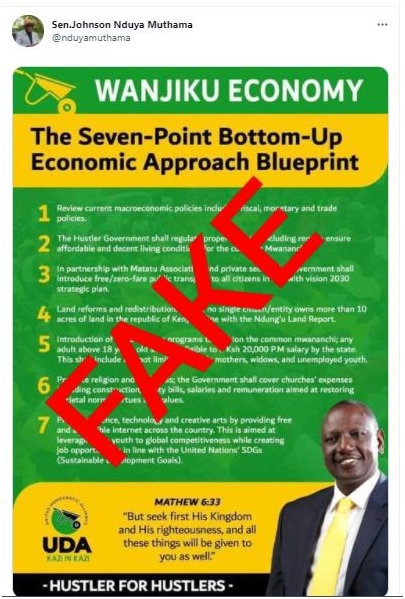 An image circulating on social media purporting to explain the "Bottom-up" economic model being championed by Deputy President William Ruto and the United Democratic Alliance is FAKE as it was not authored by the UDA party.
The document, which reads like the party's manifesto, is mainly being shared in WhatsApp groups since Thursday, 29th July, 2021 with different comments but the authors saying the document was from UDA. The image was also shared by several unsuspecting social media users especially on Twitter including former Kenya Prisons cop Patrick Safari.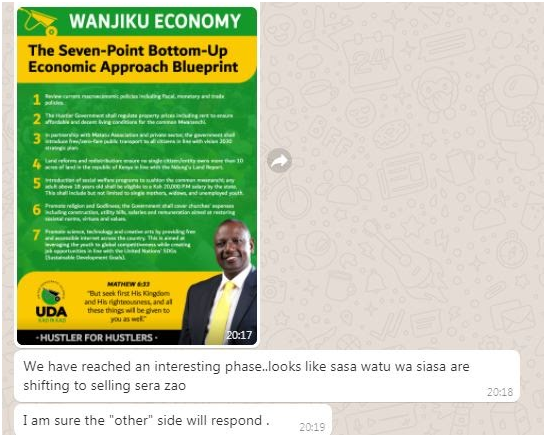 The document lists seven points for economic recovery, including a review of current macroeconomic policies including fiscal, monetary and trade  policies. "The Hustler Government shall regulate property prices including rent to ensure affordable and decent living conditions for the common mwananchi. In partnership with the Matatu Association and the private sector, the government shall introduce free/zero-fare public transport to all citizens in line with the vision 2030 strategic plan," the document reads in part.
On land reforms and redistribution, the document promised that the "Hustler" government will ensure no single citizen/entity owns more than 10 acres of land in the republic of Kenya in line with the Ndung'u Land Report.
The document also promises social welfare programs to cushion the common mwananchi, stating that any adult above 18 years old shall be eligible to a Ksh20,000  per month salary by the state, among other recommendations. 
Apart from having some policies that were impractical, Business Today's investigations found that the document had several red flags that made it fake. In the first instance, the colour scheme mismatched the ones officially used by the UDA party publicly, with the fake document having a dark yellow shade while the official UDA colour code for yellow is brighter.
 Another giveaway is the slogan "Hustler For Hustlers". Deputy President William Ruto's slogan is  "Hustler Nation". Besides, there's the misspelling of gospel writer's name Matthew as Mathew with a single 't' in a verse quoted from the Bible. A party policy document would not have such an obvious typo.
Below is a comparison with a document shared on the official UDA Twitter account.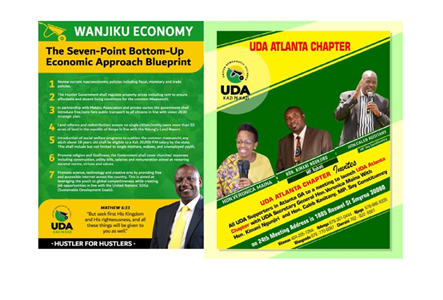 On the left is the FAKE document while on the right is a document shared by UDA on Twitter.
Meanwhile, the document has also been dismissed as FAKE by UDA chairman Johnson Muthama through his Twitter account.
— Sen.Johnson Nduya Muthama (@nduyamuthama) July 29, 2021
VERDICT: The "Seven-Point Bottom-Up Economic Approach BluePrint" document shared on WhatsApp groups and other social media platforms is  FAKE since it has been disowned by the UDA party purported to have authored it.
 [This story was produced by Business Today in partnership with Code for Africa's iLAB data journalism programme, with support from Deutsche Welle Akademie ]