Kenyan staff including chefs have been barred from accessing the United Kingdom military camp in Nanyuki, Laikipia County after a fresh Covid-19 outbreak.
At least four soldiers were confirmed to have tested positive on Sunday, February 7. It was feared that soldiers who travelled from the UK last week might have brought with them the new UK Covid-19 strain.
By the time of publication, however, the BATUK (British Army Training Unit Kenya) was yet to confirm whether the soldiers had contracted the UK strain.
The camp was put under lockdown, and local staff including chefs were directed to stay away for their own safety.
320 military personnel were placed under stringent isolation rules at the Nanyuki site, with half of them quarantining in tents. They had landed in Kenya for 'Exercise Askari Storm'.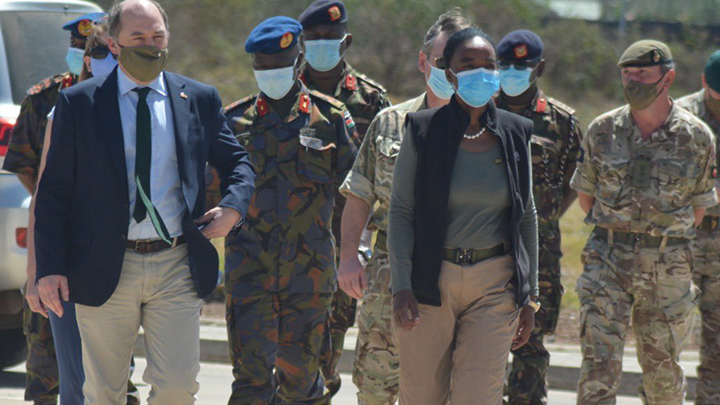 With culinary staff among others sent home, the troops are to eat rations. The total number of troops on location is 1,606 and includes at least two infantry battalions.
The outbreak has thrown the unit's plans into disarray. They were expected to conduct the first major training exercise in the country since suspending operations in the early days of the pandemic in 2020.
According to the UK Ministry of Defence, all soldiers who travelled to Kenya were tested for Covid-19 92 hours ahead of their flight.
The different groups were required to isolate for six days on arrival to curb transmission of the virus, and were constantly asked about any symptoms daily in addition to PCR testing.
It was during this period that the four soldiers tested positive for Covid-19.
UK's Secretary of State for Defence, Ben Wallace, on Tuesday, January 26 opened new barracks named 'Nyati' at the BATUK camp in Nanyuki.
"We both have ambitions to make more of the British Army Training Unit Kenya (BATUK), with Kenyan and British soldiers training alongside each other as partners.
"We want to develop the facility to something beyond just training – and use it as a demonstration of our deepening partnership," Wallace maintained.