Safaricom CEO Peter Ndegwa on Tuesday, October 27 revealed details of the company's vision as it celebrates its 20th anniversary.
At a socially distanced event held at a Nairobi hotel, Ndegwa was engaged in an insightful discussion by media personality Yvonne Okwara on his 7-month stint at the helm.
The function featured presentations documenting the telco's rise over the last two decades, including a video tribute to former CEO Bob Collymore.
It also showed various Safaricom products and initiatives that have become weaved into the Kenyan way of life; such as the ubiquitous M-Pesa service and the Chapa Dimba grassroots football tournament.
"We want to be here one hundred years from now," Ndegwa declared as he explained his plans for the company to build on the success it has achieved so far.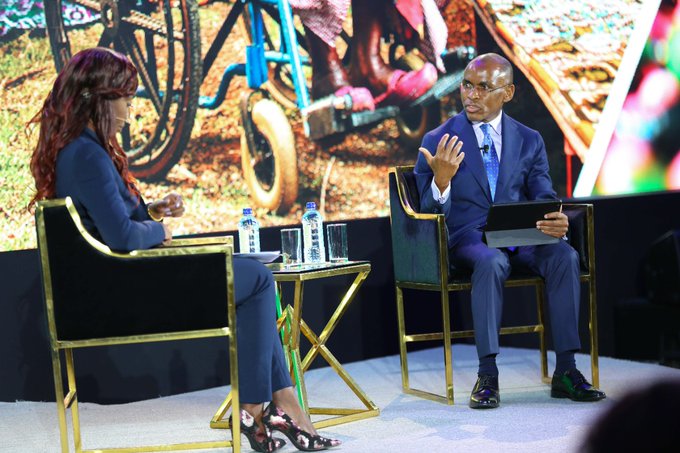 Part of the vision involves taking Safaricom to other African countries, with highly-populated Ethiopia an early target.
"We want to go beyond Kenya. We want to get into Ethiopia, it is already in the public domain and we are currently in a competitive process…We want M-Pesa to be the financial platform for Africa," he stated.
A central theme in his vision for the future of Safaricom was for the company to evolve into a "purpose-led technology company" as opposed to the communications and connectivity business it currently is.
He explained that Safaricom would build products around lifestyles while staying true to its 'Simple, Transparent, Honest' tagline.
"We want to be a lifestyle driven brand, to empower business and to go beyond connectivity into health, agriculture and education.
"We want to build new digital ecosystems to empower farmers, policy holders and students as they learn," Ndegwa stated.
He further noted that the company had a renewed focus on serving Small and Medium-sized Enterprises (SMEs) which he described as the lifeline of the economy.
He revealed that the plan included a digital academy for small businesses to equip entrepreneurs with various skills, as well as two new data products targeting MSMEs.
In addition, Ndegwa disclosed lofty plans to 'democratize data' by increasing access to 4G internet and fibre across the country.
"In 5 years we plan to reach 1 million homes and offices," Ndegwa asserted.
Watch the discussion below: