The Eveready East Africa Limited Annual General Meeting scheduled to take place today, Tuesday 27th October 2020, has triggered investor interest in the counter.
When trading at the Nairobi Securities Exchange (NSE) closed on Monday, Eveready share prices had edged up 5.43% to Ksh0.97 from the previous Ksh0.92.
Considered among the cheapest counters at the bourse, the counter witnessed a volume of 2,000 in two deals that saw a turnover of Ksh1,940. The stock attracted 100% participation by local investors with foreigners giving it a wide berth.
Registration for Eveready East Africa Limited 53rd AGM opened on 28th September 2020 and closed on Sunday 25th October 2020.
During this meeting, shareholders will confirm the minutes of the 52nd Annual General Meeting held on Thursday 28th March 2019. They will also receive, consider, and, if possible, adopt the Audited Financial Statements for the year ended 30 September 2019 together with the Directors' and Auditors' Reports.
Shareholders will also conduct re-election of directors and fix their remuneration, re-appoint RSM Eastern Africa as auditors and amend the firm's Articles of Association to allow virtual shareholders' meetings.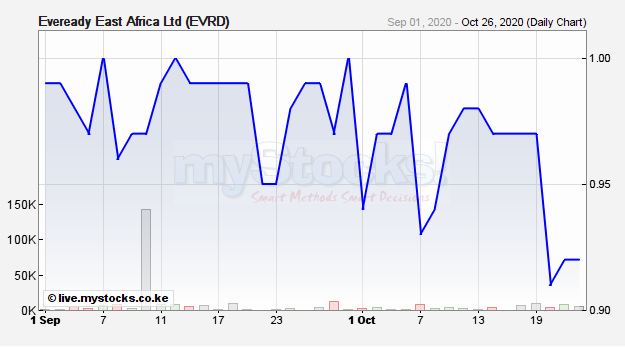 Turnover at the Nairobi Securities Exchange (NSE) rose to Ksh442.97 million on Monday 26th October, 2020 on a volume of 11.79 Million shares that were transacted in 764 deals. This is compared to a turnover of Ksh610.46 million on Friday last week.
KCB was the biggest mover with a volume of 4.47 Million shares followed by ABSA (2.02 Million) and Equity (1.96 Million), Safaricom (666,900) and Standard Chartered Bank of Kenya (SCBK), which moved 600,200 shares.
Apart from Eveready, the other top 4 price gainers were Diamond Trust Bank, which grew 4.10% to sell at Ksh63.50. Sanlam Kenya whose share price appreciated 3.75% to Ksh12.50, Nation Media Group whose share price surged 2.60% to Ksh15.80. Home Afrika gained 2.27% to close at Ksh0.45.
The worst performing counters were led by TPS Serena which lost 8.25% to Ksh14.45. Liberty Kenya Holdings shed 7.18% to close at Ksh7.24. Other losers included I&M Holdings and EABL, which depreciated 2.07% to stand at Ksh153.75 as well as Centum, whose share price plunged 1.90% to trade at KSh 18.10.
The NSE 20 Share Index rose 0.01% to 1799.38 while the NSE 25 Share Index was down 0.85% to 3189.25. The NSE All-Share Index declined 1% to 139.80 when the bourse closed.
There was a decline on the derivatives market with two contracts valued at Ksh61,500 concluded during the days trading session. This is compared to the 6 contracts valued at Ksh205,050 during the previous trading session.
Bonds worth Ksh3.03 billion were transacted in 84 deals on Monday against the Ksh3.04 billion worth of bonds transacted the prior session.