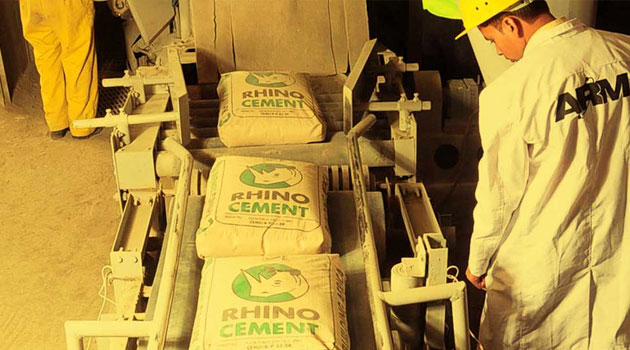 The end to the woes of collapsed ARM Cement seem to be nowhere near in sight, if the extension of suspension of trading of its shares on the Nairobi Securities Exchange (NSE) is anything to go by.
In what constitutes the NSE's fifth, and longest yet trading extension of the troubled cement maker, the signs could point at doubts in the recovery plans that have now taken over a year to be solidified.
Creditors will thus be left none the wiser if with uncertainty hovering over finality as indicated by the regulator's lengthy extension.
ARM Cement, once Kenya's second-largest cement maker, owes billions of shillings to a range of creditors, including local commercial banks.
In a notice from the NSE, the bourse said that regulator Capital Markets Authority had approved a lengthy extension that will be in effect until the second quarter of 2020.
"The extension of suspension from trading the company's shares will remain in force for a further 9 calendar months, with effect from August 14, 2019," the NSE said.
ARM Cement shares will therefore continue to remain untraded at the Nairobi bourse until May of next year. Having first been suspended in mid-August of 2018, it will leave ARM Cement enduring a trading suspension of at least 21 months.
Doubts Over ARM Cement Recovery
The lengthy extension could point to doubts over the viability of its recovery plan, with the cement firm being under the joint administrators George Weru and Muniu Thoiti of PricewaterhouseCoopers (PwC).
NSE noted that it continues to engage the administrators, who up to now are still settling on buyers who would revive ARM. The cement firm was put under administration in August last year by some of its creditors over a Ksh 19.2 billion debt.
In May of this year, after ARM had already endured four extensions on its trading suspension, Devki Group billionaire Narendra Raval seemed set to acquire the assets of the cement firm for Ksh5 billion, through his company National Cement.
The offer though was placed in doubt by a last minute bid by Jaswant Rai, as well as objections by former ARM chief executive and major shareholder Pradeep Paunrana. This led to a temporary stay of the sale, although the purchase has now been finally concluded, according to Business Daily.
In turn, Paunrana's attempt to purchase the fertlisiser unit of ARM Cement fell through after administrators cancelled a bid that would have seen Swiss firm Omya and Pinner Heights Limited purchase the unit.
Whom Does ARM Cement Owe Money?
The administrators argued that sale of the fertiliser unit would deny the buyer of the collapsed cement factory access to limestone deposits in Kitui County, a key ingredient in the processing of cement.
"The opinion of a cement industry expert advised that the agreements were unclear, unfinished and strategically damaging to Kitui limestone deposits for a cement strategic buyer," said Thoithi.
With the billionaires not yet releiving ARM Cement through purchases, then creditors continue to wait.
ARM Cement's creditors stem from loans it owes Stanbic Bank Kenya, African Finance Corporation and overdrafts with Barclays, Stanbic, Guaranty Trust and UBA banks.
Maweni, its Tanzanian subsidiary, had loans with Eastern and Southern African Trade and Development Bank (PTA Bank), and Development Bank of South Africa and overdrafts with Stanbic and Standard Bank (Mauritius).
Maweni meanwhile has been sold to Chinese firm Huaxin Cement for Ksh12 billion, in a bidding war where the likes of Dangote Cement, Mega Conglomerate and National Standard were edged out.