Government Spokesperson Col. (Rtd) Cyrus Oguna on Tuesday, December 15 warned Kenyans against travelling upcountry for Christmas and New Year festivities.
He maintained that, to curb the spread of Covid-19, Kenyans would have to forego the tradition of visiting family including parents and grandparents.
Oguna urged Kenyans to avoid traveling this holiday season as a show of love towards their parents and family members.
"If you love them (your parents), stay away. I know it might sound insensitive but do not visit during this period of Christmas because Covid is real," he stated.
Festivities this year are set to be quite different thanks to various government restrictions on Covid-19.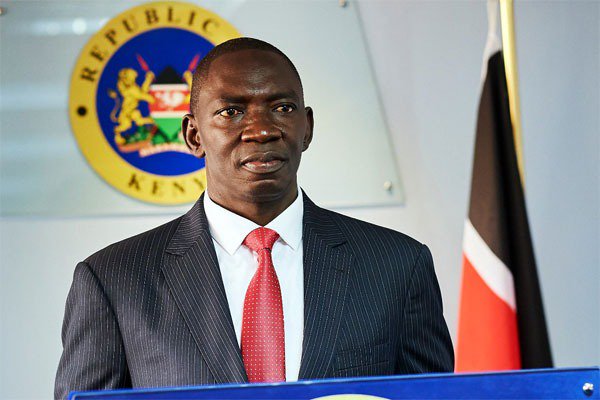 Restaurants, bars, hotels, clubs and entertainment joints, for instance, are staring at losses thanks to restricted operating hours and low occupancy rates.
Oguna was addressing a media briefing on various issues including the Building Bridges Initiative (BBI) and the turmoil in the health sector.
He pleaded with nurses and clinical officers, currently on strike, to return to work even as unions continued negotiations with government over various demands.
Using a war analogy, he argued that frontline workers could not abandon the fight when people needed them the most, referencing the Covid-19 pandemic.
He commended doctors under the Kenya Medical Practitioners and Dentists Union (KMPDU) for shelving plans to go on strike to allow for further negotiations.
Medical practitioners in the country have blamed the government for a dire situation that has seen salaries delayed and frontline workers lacking medical insurance or access to adequate Personal Protective Equipment (PPEs).
The deaths of young and experienced doctors who contracted Covid-19 in the line of duty jolted the nation, shining a spotlight on the human resource management challenges in Kenya's health sector.
Oguna further expressed support for the BBI report and its proposed Constitutional amendments, dismissing the assertion that a referendum was too costly a process.
He argued that, with everything having a cost element, implementation of the BBI was the cost of uninterrupted peace in Kenya.
Oguna maintained that the BBI was a panacea to the problem of violence occurring with every five-year election cycle.