KBC news anchor Sam Njoroge has announced his resignation from the state broadcaster. He did so during a live broadcast on Thursday, January 28th.
While closing off his section on the Good Morning Kenya show, the anchor disclosed that he would not be anchoring for the national broadcaster any more. 
He, however, did not give reasons for his departure but only cited emerging interests in his career.
"This is not a goodbye, you will be seeing me and hearing from me very soon. In the meantime, it is a bow, and thank you so much for your support," he stated.
Back in August 2018, Njoroge left KBC and joined Mediamax's K24 TV where he served as a news anchor for two years. He was sent home during a mass lay off exercise at the station. He later went back to KBC in August 2020.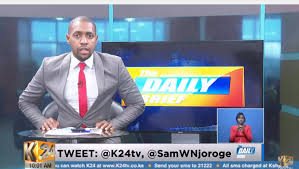 The media industry in Kenya has seen heightened activity in recent months.
On December 6th 2020, Anne Kiguta quit K24 TV citing editorial differences with the station.
Days later on Friday December 11th, gospel musician Joyce Omondi left Switch TV after almost two years of hosting the Full Circle show.
Earlier, in January 2021, KTN anchor Grace Kuria announced her departure from Standard Media Group while hosting the lunchtime bulletin.
She served at the station for two years since joining in January 2019 after she was poached from K24 TV.
Another exit is that of Nick Ndenda who left Kiss FM on  28th of January after working there for 2 years hosting a show alongside Linda Nyangweso.