Lawrence Warunge, the prime suspect in the killing of four of his family members and a farmhand in Kiambaa, Kiambu County on January 5, has been found unfit to stand trial.
Warunge and his girlfriend failed to take a plea in court on Monday, January 25 as it had been anticipated to allow for a mental examination to be conducted. The 22-year-old was to be examined at Mathari hospital..
The mental results that were presented by a psychiatrist before a Kiambu court established that Warunge was not fit to stand trial.
The court therefore ordered Warunge to be remanded for a further 30 days after which a second mental assessment would be undertaken.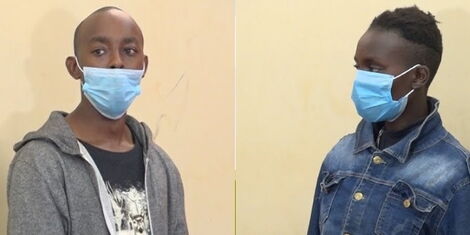 His girlfriend, Sarah Muthoni was released after she reached a deal to become a state witness against Lawrence.
Chief Magistrate Patricia Gichohi has ordered Warunge to be held in police custody in Nairobi until March 1, 2021, when the matter will be mentioned. 
The law stipulates that one has a right to legal capacity which entails being in the right state of mind to understand the charges.
The gruesome murder spree, along with several other reported bizarre incidents, have fueled a conversation on mental health in Kenya among young people in Kenya.
Warunge, a 23-year old I.T student, had claimed that he was inspired to commit the murders after watching Netflix series Killing Eve.
He confessed to killing confessed to killing his father, Nicholas Njenga Warunge, mother Annie, brothers Maxwell and Christian, and their farmhand James Kinyanjui.
Warunge also told detectives that he planned on killing two of his sisters but they reported back to school before he could go through with it.