The Energy and Petroleum Regulatory Authority (EPRA) on Friday, October 23 launched an investigation after motorists complained about alleged price manipulation at various filling stations.
EPRA announced that it had dispatched its surveillance team to follow up on allegations which went viral on social media against Astrol Petrol Station located along Mombasa Road.
Images shared by one motorist showed a seemingly manipulated counter indicating an exaggerated price of Ksh6987 for 61.89 litres of fuel purchased at a unit price of Ksh103.2.
Essentially, the motorist purchased fuel at Ksh114 per litre as opposed to the displayed price of Ksh103.2.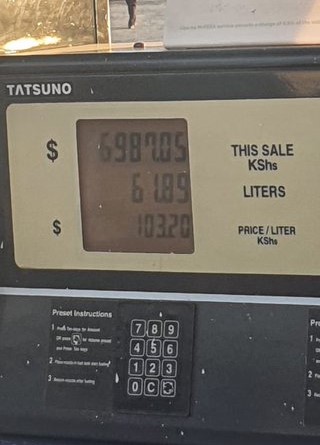 The claim triggered a floodgate of narrations from Kenyans who claimed to have fallen victim to similar schemes, prompting the EPRA to take action.
"Be assured that our robust surveillance team has picked up the matter about the facility for investigations. Culprits will be dealt with in line with the Petroleum Act, 2019," the agency wrote.
Several other motorists called for a boycott of the station in question, claiming that it was notorious for price manipulation.
Astrol Petroleum was yet to respond to queries from Business Today by the time of publication.
A number of motorists, however, complained that the practice was widespread in many other filling stations around the country.
Often in a rush, motorists rarely take time to crunch the numbers while purchasing fuel. This offers an opportunity to operators with ill-intent to manipulate prices before payments are made.
Price surveillance is one of the EPRA's key functions as part of its mandate to protect the interests of consumers, stakeholders and other players in the energy industry.
It is required to undertake countrywide monitoring of compliance to the maximum set retail prices.