The last moments of city billionaire Jacob Juma, who was g*********n on Thursday night, offer no clues to who could have k****d him nor betray any expectations of something untoward on his side.
Mr Juma, who featured in multi-million shilling court cases and was suspected of high level c********n, was g*********n by k*****s on motorcycles as he drove home at around 9.30pm Thursday, as he often does. For Juma was controversial and so did he d*e.



His b****t-riddled body was found in his Mercedes Benz saloon car which still had its engine running and the driver's door open. From the layout of the c***e scene near the Southern by-pass turn-off on Ngong Road, the Standard reports, it appears that his k*****s either collected all spent cartridges or used cartridge-holding w*****s to eliminate any chance of tracing origins of the f******s.
Police say his car's open door could be an indication that the k*****s deliberately moved closer to establish that they had k****d Juma or to retrieve the spent cartridges. Police found his Identity Card, Ksh6,500, five euros and two mobile phones.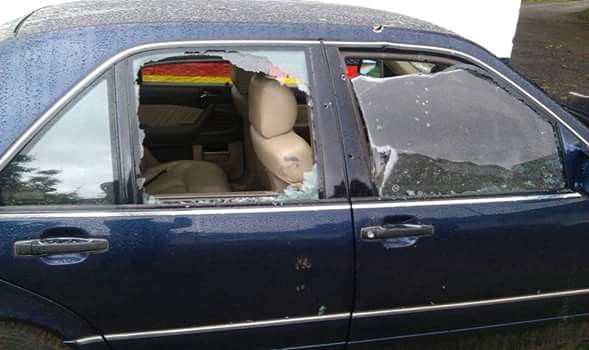 Tracing his last steps
Juma left the Central Business District at 4pm and arrived at his apartment on Brookside Drive in Westlands at about 6pm on Thursday. Later, he left Westlands for Karen at about 8.30pm, driving through James Gichuru Road in Kilimani before joining Ngong Road.
He met his d***h near Lenana School when g****n sprayed his car with b*****s at about 9.30pm. Juma's body was removed from the c***e scene at about 11pm and taken to the Nairobi City Mortuary and was later transferred to Lee Funeral Home.
"We don't know the motive, but this seems to be a m****r," Nairobi police boss Japheth Koome said.
Juma's wife Miriam did not know about her husband's d***h until Friday morning, according to lawyer Ahmednassir Abdulahi who has in the past been associated with the businessman. The lawyer told Standard Juma often stayed at one of his apartments in Westlands and left much later for his Karen home when traffic eased.
Wife had expressed fears
Mr Ahmednassir said his wife had met Miriam at a school where they had dropped children in the morning. Miriam then complained to her that Juma had not returned home the previous night, saying this was unusual.
Mr Ahmednassir then received a phone call from his wife expressing Miriam's worries and made inquiries and learnt that the police had taken a body of man identified as Juma to the Nairobi City Mortuary.
Mr Juma was known for courting controversy on various issues on his Twitter handle and Facebook page by commenting on topical issues. He was the director and proprietor of Cortec Mining Kenya Ltd with a profile on his Twitter account showing the company was affiliated to Cortec  SA, Cortec UK, Stirling UK, Pacific Wildcat Resources Corp Canada,  Rio Tinto Australia and First Western UK.
Opposition leaders led by Raila Odinga, were among scores of Kenyans who condemned his k*****g and called for thorough police investigations.