A handshake is common upon meeting, greeting, parting, offering congratulations, expressing gratitude, or completing an agreement among others. The body language of handshake is something that many ignore though it speaks volumes.
This type of a non-verbal communication isn't a topic often talked yet it's among the significant part of communication. The ability to read body language and awareness of our own body language are also the peak of emotional intelligence and social skills. In today's life, handshakes mostly happen in working areas where one has to interact with workmates, your boss and also customers. Remember handshakes vary in meaning.
You can tell a lot about someones character simply by how they shake your hand. Extroverts have firm confident grips while shy people and neurotics tend to shake hands softly and gently.
The following six types of handshakes reveal a lot about you.
The dead fish: This type of handshake has no energy, no shake, no squeeze, not even a pinch, thus giving the feeling you are holding a dead fish instead of a hand. It's just like a dead fish, unemotional and numb shake of the hand. This type indicates a passive or reserved personality.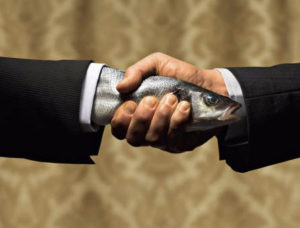 The hand crushing shake: This is where someone crushes your finger in some point that you may feel pain without them realizing it. This form of squeezing your hand until you cringe is clearly designed to intimidate you. You don't have to pretend to be a wimp with them. In fact, they may respond positively to you if you present yourself with strength. This type of handshake, no matter how strong, still carries the message of intimidation. Depending on the pressure, this handshake is also used by physically weaker individuals who desire to dominate occasionally out of feelings of weakness or fear that they will be dominated by others if they don't
Sweaty palms: When a person is nervous their sympathetic nervous system often becomes overactive, sometimes resulting in sweaty palms. So this type of handshake usually indicates nervous people. It also indicates discomfort. More commonly, this handshake can be found in nervous people whose blood flows away from the cells below the palm (or dermis) and is diverted to the arm and leg muscles, just like with our ancestors who needed the extra blood in these places to fight their enemies or run away in nervous/dangerous situations.  Also take into consideration that 1 in 20 people suffer from Hyperhydrosis, which is a condition that creates severe sweating.
Brush off shake: It's a very quick and first grasp then fast release handshake that signifies arrogance. This type makes someone feel insignificant because it tells that your agenda is more important than theirs. Learn to listen to others first.
Professional handshake: In this type of handshake there is a good eye contact, a smile and the handshake is firm. It indicates that you are engaged with what is happening, professional and confident
Dominator: Someone who displays their palm downwards shows a sign of authority or superiority.  Every now and again you'll notice someone who likes to shake hands while their hand is on top and their palm is facing the ground.  It is useful to know about this handshake as it may come in handy in certain situations like letting your boss feel powerful by 'submitting' to his dominance, or if you are apologizing about something, letting someone have their palm on top will make them feel in control of the situation.
[crp]
The hand hug: This is when someone shakes your hand and then cuddles it with his other hand. It's usually seen among politicians. This type creates warm, friendly, trustworthy and honesty showing the bond strength between people. When done to the right person, they are perceived as being warm, friendly, trustworthy and honest, and sometimes this handshake is reciprocated creating a pile of 4 hands.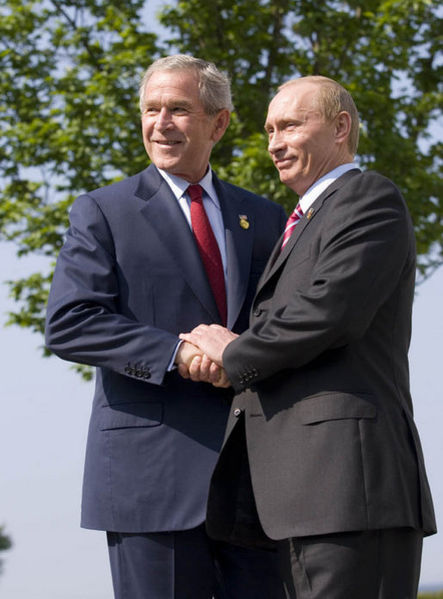 However, this type of handshake is only done genuinely with people who share close bonds, as similar to hugs, this handshake is seen as an invasion of intimacy when done by people who have just met.  On that same note, you will also see some people using their left hand to grasp the other persons forearm, elbow, bicep and even shoulder while shaking hands.  In reality, we stretch out our arms to shake hands to keep people out of our personal space and protect our body.  The higher up the arm a person is seen putting their left hand, the closer the bond those two people share (or at least the person doing the double hander handshake believes they do, or wants to portray they do, like in many politicians cases).
Queens Fingertips:  This is quite common in male-female encounters.  As women need more personal space than men, they will stretch out their hand (sometimes in an awkward position) from a distance allowing the other person to barely grasp the two or three fingers without a good grip of the hand.  It is also used by individuals who feel superior to the other person, e.g: The Queen, therefore stretching out their hands with their palms downwards (a sign of authority/superiority) and only allowing a hold of the fingers.
Keep Back:  Another type of handshake used by aggressive types.  The main purpose of this handshake is to keep you at a distance and away from the persons personal space as they may feel threatened – the person will usually lean forward or balance on one foot to achieve needed distance.
It can also be common to find this type of handshake amongst people who were raised in country/rural areas as the personal space for people in such areas is much larger than the personal space needed for individuals raised in crowded cities.
Yank and Pull:  This handshake is considered a power play, as it's when a person decides to grab your arm and pull you in close towards them and inside their territory/personal space.  There are three possible reasons for this: firstly the person may be feeling insecure and needs you to be in their own territory in order to feel comfortable and safe, or secondly they come from a culture/city that requires smaller space needs, or finally, they want to take control and get you off balance.  In any of these cases, they should be considered manipulative because the persons wants things done a certain way.
A proper handshake should last from 3 to 6 seconds. Be equally balanced meaning each persons hand is vertically side by side, thumbs must be locked around each others upper hand and fingers have a firm grip. Always reciprocate the same amount of pressure you are receiving from the other persons hand, and mentally give a calculation from 1 to 10 of what strength they are using, adjusting accordingly.
[crp]