The People Daily newspaper has entered into a consent to pay a director of a company Ksh4.2 million in a defamation case involving retired President Daniel arap Moi in the 2013.
Mr George Kuria Mwaura had sued the People Daily, owned by President Uhuru Kenyatta's family, in 2013 for claiming that on September 18, 2013, he had attended a hearing involving retired President Daniel Arap Moi and four businessmen who had sued the former president.
In court documents, Mwaura claims he was arrested by the CID officers on allegations that he had forged title documents in the name of retired Daniel Arap Moi and that he had sued the former head of state and given false information. The businessman claims the People Daily published the allegations which were not only false, but also malicious and defamatory.
He says he informed a team of journalists covering the proceedings on that material date that he was not a party to the suit involving the former president.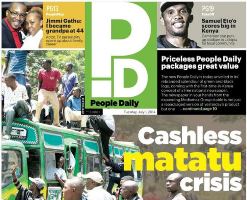 "The publication was calculated to injure me and cause great embarrassment, besides exposing me to great ridicule and contempt in the eyes of the members of the public," claims Mwaura.
He claims that the content of the publication dated September 19, 2013 was about an issue that was emotive in the eyes of the public and portrayed him as a fraudster, dishonest person, corrupt and an evil person, who should be shunned and avoided by right-thinking members of the society.
"I was shunned and avoided by my business associates, clients and the members of the public and some of his clients changed instructions as a result of the reckless and irresponsible journalism,"Mr Mwaura claimed in court documents.
In his judgement today, Joseph Sergon said: "Consent is adopted as the order of this court and the judgment is entered in favour of the plaintiff in the sum of Ksh4.2 million all inclusive."
The parties have been negotiating for a settlement and were ready to record a consent. Judge Sergon granted a stay of execution for 30 days.
[crp]