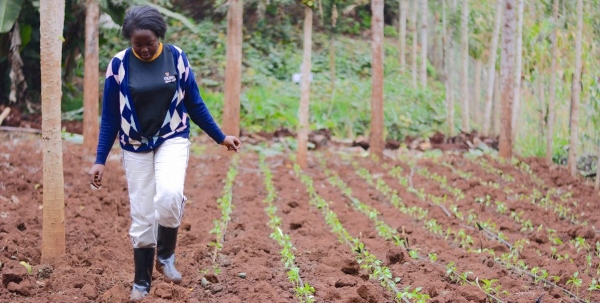 A new report indicates that millennials (young people aged between 18 and 35) are turning to farming as a side-business, with many striving to turn side-hustles into their main focus through borrowing capital from banks and relatives. The report released yesterday by GeoPoll sampled youths in six African countries: Kenya, Uganda, South Africa, Ghana, Nigeria and Tanzania
The study focused on what African millennials think, their aspirations, hopes, affinity, and habits as well as their opinions on leadership, governance and their future in a digital age in the best way that they know how to communicate: using their mobile phones.
"Image and how the youth are perceived is very important. There is an opportunity to instill an entrepreneurial mindset among those in college or working.  As noted in our previous report on spending habits of youth consumers in SSA, there are knowledge gaps among African millennials on areas such as effective saving plans, wise investments and financial management," states the report.
Agriculture tops ICT, entertainment, online business and logistics as the most popular form of side hustle for millennials in Kenya, Uganda and Tanzania. In West Africa Nigeria & Ghana, the youth are into less conventional sectors than those mostly associated with the youth such as ICT, entertainment and online businesses. In South Africa, Food & Beverage is the more popular side hustle for many youths.
Apart from Uganda that has the highest number of youth whose day jobs conflict with their side hustles, millennials in other SSA countries don't experience this dilemma with many choosing either agriculture, food & beverage or less conventional side jobs. Interestingly, it is in Uganda where ICT is the next most popular line for side business, a very close second (20%) to Agribusiness (24.4%) among the youth.
Despite popular belief, not many young Africans have side hustles (37%). Nigeria has the highest number of millennials with side hustles (44.4%) followed by Kenya (40.8%) as South Africa trails with 30%.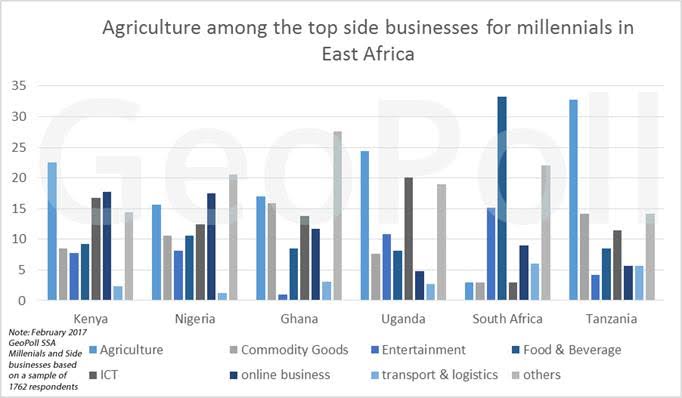 The main sources of their capital is in form of loans from banks, relatives, mobile money and micro-finances. Despite their more friendly repayment terms, Savings Cooperatives or Saccos, are the least popular among the youth.
From the survey, this trend of side hustles is fairly new among youths with a majority still in school and a few probably in their first job. Over 73% indicated that they have run the side hustle for less than two years. The earnings for many who engage in side hustles is below $200 per month with over 30% of the extra income going towards savings while 25% goes towards school fees and a further 20% going towards utility bills.




[crp]