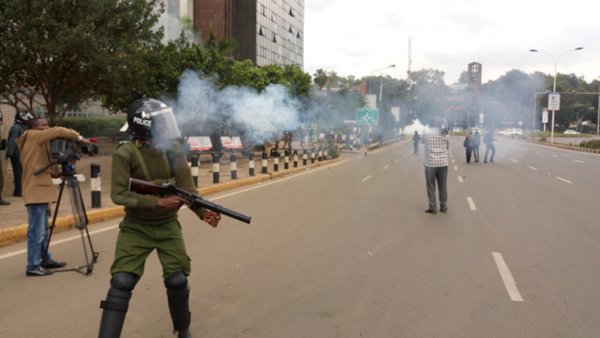 CORD has suspended its weekly demonstrations against the Independent Electoral and Boundaries Commission (IEBC) protests in favour of dialogue.
"CORD suspends anti-IEBC peaceful demonstrations by a week to give room for dialogue as requested by the Church & Foreign Envoys," says ODM Director of Communications Philip Etale. "This means Monday 30th demonstration will not be held awaiting the commitment to dialogue by the government," he added.



The move, which will come as surprise for CORD supporters, follows appeals from church leaders and envoys of Kenya's main donors who fear continued demos could trigger electoral violence in the country. The coalition had vowed to hold demos every Monday even through the previous ones have ended ugly with police using teargas against the leaders and their supporters in what has come to be known as "Teargas Monday".
Mainstream church leaders have been holding talks with key stakeholders to find a way out of the impasse that has triggered chaos on the streets of major towns as police seek to protect the electoral body's offices.
Four people have died as a result of the police crackdown with 12 western diplomats calling for action to be taken against those responsible while urging for government restraint and maintenance of peace by the protesters.
CORD had also planned to hold demos in Nairobi during next Wednesday's Madaraka Day celebrations, which will be held in Nakuru.
CORD leadership condemned the killing and vowed to press on but called for investigations into the shooting of unarmed demostrators. "Following the brutal killing of peaceful demonstrators in Kisumu and Siaya, the the Inspector General of Police Mr. Joseph Boinett must, with immediate effect, apprehend the officers involved and arraign them in court for due process of law to take its cause," said Kisumu Senetor Prof Anyang Nyong'o.
"I am ashamed of the attitude of law enforcement agencies in Kisumu. Their action reveals ethnic profiling of the Luo nation which has taken root among Jubilee potentates. This must stop."
It goes without saying that no amount of intimidation will stop CORD and the people of Kenya from taking the current IEBC home and putting in place a sound constitutional framework for democratic elections, he said.