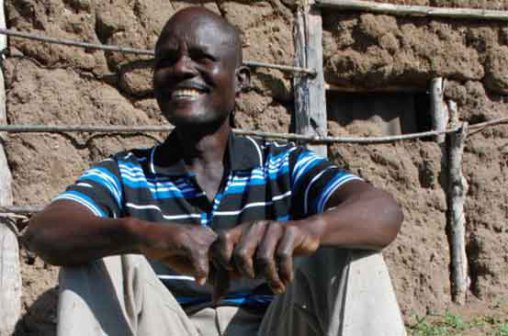 At 62 years and with nothing much except his children to show for it, everyone – including his wife –had given up on Joseph Onywera. Except himself.
Mr Onywera believed in his spirit so much that he recently placed a bet with Betway gaming company with all his wealth: Ksh100. Lady Luck finally smiled at the man, who was abandoned by his wife for being too poor for life. Yet with the Ksh100 gamble, believe it or not, Mr Onywera hit the Ksh20 million jackpot.  He's the traditional embodiment of the rags to riches tale!
Before he placed his bet, Mr Onywera's mind was in turmoil. He said he could hear discouraging voices screaming in his head. He ignored them and gambled away his last Ksh100.
Shortly after, something verging on a miracle happened. He received a call from a woman who introduced herself as an employee of Betway, a bètting company in Kenya, informing him that he was the week's Ksh20 million jackpot winner. He could not at first believe it and almost fainted, he says.
And just like that, Mr Onywera who hails from Kapiyo village of Kano became an instant millionaire. "I am a soccer fan. I played during my youth and the bètting bit just spiced up my love for the game. As an Arsenal FC and Gor Mahia FC fan, I have been up-to-date with the happenings in the world of soccer and that made me a fan of bètting too," Mr Onywera, a father of nine who dropped out of school in class 3 in 1967 and ventured into fishing, says in an interview with the Standard.
His life, however, started sliding after he lost his first wife, Truphena Anyango, in 1996. He returned home to take care of his children and his second wife who was just new in marriage. In 2010, he separated with his second wife due to what he termed as misunderstanding over his inability to cater for the big family's basic needs.
He has lived a lonely life ever since in an unfenced compound with two old structures he has called home for over two decades. He is, however, not ready to accept his wife back. "I just need some peace now and I can live on my own for now. One of the sons I had with the second wife lives in a nearby centre and I will work on how to help him, but not his mother," he said after receiving his cheque for Ksh20 million from Betway yesterday.
He said his first spend will be to give tithe to his Osaria Catholic Church, the place from where he has been receiving spiritual nourishment during his lonely life. "I just want to go to the church and ask them what I should do for the church. I would have helped build it but fortunately our church is permanent. So I will give whatever I wish to as an offering," said Mr Onywera.
In his heyday, Mr Onywera had acquired a plot in Kisumu and will now build rental houses on it. "I also want to build a decent house for myself. As you can see, my house is in a pathetic state. Then I will buy a 'chopper' (matatu) for business where I will get my daily bread, as I cannot do hard jobs at this age," he said.
He does not drink alcohol, and he says he will be spending most of his time taking care of his three zebu cows and monitoring his projects. Betway Country Manager for Kenya Wanja Gikonyo, who presented the cheque yesterday, said the company will help Mr Onywera plan on how to use the money.