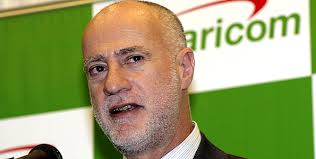 Vodafone's Director of Mobile Money and former Safaricom CEO Michael Joseph has been ranked third in the inaugural edition of the 'Business Insider 100: The Creators' list.
The ranking recognises his work in the development of M-­Pesa, the mobile money transfer and payment service that has transformed the lives of millions of people in emerging markets
The ranking, which was published on Wednesday, by the online business news platform recognizes business leaders who have harnessed the power of capitalism to enhance their respective communities and stakeholders.
Facebook founder Mark Zuckerberg and Starbucks Chairman and CEO Howard Schultz have been ranked in positions one and two respectively. Other luminaries on the list include Berkshire Hathaway Chairman Warren Buffet, M-Kopa CEO Jesse Moore, Apple CEO Tim Cook and Virgin Group Founder Richard Branson.




Mr Joseph who was at the helm of Safaricom for a decade was hailed for the introduction of mobile revolutionary cash transfer system M-pesa.
M-Pesa was created as a secure micro-finance solution for Kenya's large non-banking population. The system helps Kenyans send and store money, pay for goods and services. It has also helped generate jobs through various M-pesa agents where mobile subscribers can withdraw or deposit cash in their accounts.
There are over 100,000 M-pesa agents in the country. Over 16.6 million Kenyans are subscribed to M-pesa. The value of transactions in the third quarter of 2015/16 amounted to Sh764 billion.
The system has been feted globally and is replicated in several countries including Philippines, Bangladesh, Pakistan and Afghanistan.




RECOMMENDED ARTICLES