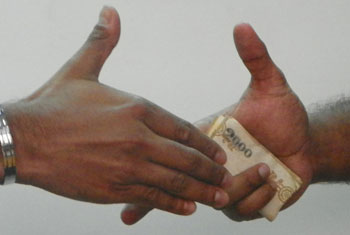 Kenya's fight against rampant corruption is expected to make a giant leap with the introduction in Parliament of a Bill prescribing severe penalties against public and private sector bribery.
The proposed law, tabled by Leader of Majority in the National Assembly Aden Duale tabled last week, condemns those convicted of bribery to a Sh5 million fine or 10 years in jail besides other punitive measures. The penalties apply regardless of the size of the bribe.



If the Bribery Bill 2016 sails through Parliament, politicians and State officers convicted of a bribery offence will face even higher penalties, including disqualification from election into public office or appointment to hold public office for a period of 10 years.
The proposed law, which some legal experts have described as overambitious, also seeks to create an offence of failing to report an act of bribery.
It requires every person or entity who witnesses an act of bribery to report it to the Ethics and Anti-Corruption Commission (EACC) or face specified sanctions for abetting the offence.
Abetting bribery also criminalised
"Every State officer, public officer or any other person holding a position of authority in a public or private entity shall report to the commission within a period of 24 hours any knowledge or suspicion of instances of bribery," the Bill says — effectively making it  criminal for a private entity to fail to prevent bribery.
Under the new law, failure to prevent an act of bribery will be a strict liability offence, meaning that the prosecution will not be required to prove any kind of intention or positive action.
"A State officer, a public officer or any other person who, despite being aware of or suspicious of the commission of an offence under this Act, fails to report the act to the commission within the specified period commits an offence," the Bill says.
The proposed law also outlaws activities intended to facilitate bribery and provides that a private entity may be held liable where its director or senior officer is found guilty of the offence of bribery.
Fighting corruption in private sector
"The overall objectives of this Bill is to extend the fight against corruption to the private sector, especially by criminalising bribery in the private sector, to provide for specific requirements of private entities to have in place procedures for the prevention of bribery, to create a legal obligation for every person who becomes aware of an act of bribery to report the matter to the EACC and to provide for an effective co-ordination and accountability framework in the prevention, investigation and prosecution of acts of bribery," the Bill says.
Under the proposed law, it will be a criminal to request for, agree to receive or accept a financial or other advantage intended to induce or reward another person for improper performance of relevant function or activity.
The Bill also provides that it is an offence to bribe a foreign official with the intention of influencing that his or her capacity or performance of their duties.




A key plank of the proposed law is a provision that prescribes an additional mandatory fine "equal to five times the amount of the advantage or loss" made in an act of bribery — besides the fines and jail term.
The mandatory fine will apply if, as a result of the conduct constituting the offence of bribery, a "person received a quantifiable benefit or any other person suffered a quantifiable loss".