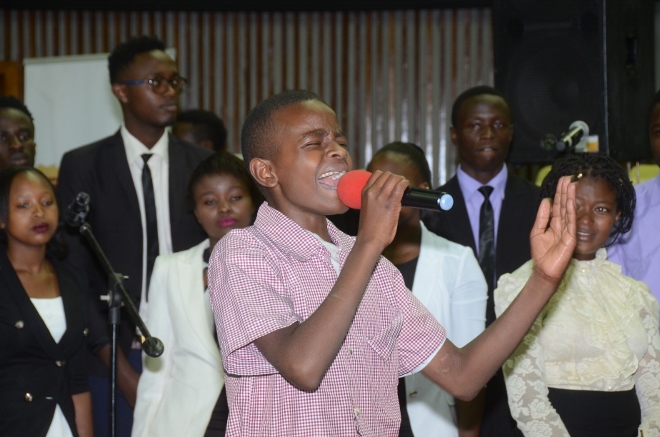 Equity Group Foundation on Monday commissioned 1,700 Wings To Fly scholars to join various secondary schools across the country. The Wings to Fly Program, which has so far benefited 14,368 students, will see the eighth cohort of 1,700 students this year get full sponsorship for the four years.
The 2017 Wings to Fly class is funded by The MasterCard Foundation with support from KfW and Equity Bank. Presiding over the commissioning of the Wings To Fly, Education Cabinet Secretary, Dr Fred Matiangi, hailed the programme for playing a critical role in supplementing the government's efforts in providing education for all.
"The Wings To Fly program has transformed many lives since its inception and as a government we recognise the complementary role this program has played to support us to educate needy and bright students. As a result, we will be looking at ways of strengthening our partnership under the new policy framework," said Dr. Matiangi.
The initiative by Equity Group Foundation and The MasterCard Foundation with additional financial support by other Wings to Fly partners, offers comprehensive secondary school scholarships to academically gifted children from needy backgrounds which covers: tuition fees, books, school uniform, accommodation, pocket money, transport costs among other expenses.
At the same time, Dr Matiang'i also launched the 2017 Equity Bank Paid Pre-University Internship Program for the 2016 Wings to Fly graduates who scored an A and A- (minus).
The Equity Bank Paid Pre-University Internship Program enables the scholars to pay for their university education while undergoing leadership, coaching and mentoring. This year 569 Scholars will join the Program.
They comprise of 286 scholars from theWings to Fly program and 150 top boy and girl from each district in Kenya where Equity has a branch, who attained a minimum score of A-. Equity Bank also extended an exceptional opportunity to all the 141 students who scored an A plain in the KCSE exams in 2016 nationally (of which 8 are Wings to Fly scholars) to join the program. This will bring the total number of scholars who have benefitted from the Equity Bank Paid Internship to 5,059.
Equity Group Foundation Executive Chairman, Dr James Mwangi reiterated that there are many needy students who require the necessary support in order for them to pursue their dreams. "This year alone, we received over 25,000 applications from students who are cannot afford secondary school but were only able to award 1,700 scholarships. Although we strive to offer opportunities to the most deserving cases, we still feel that there is need for more collaboration between various stakeholders to achieve the dream of universal quality education in the country," Dr Mwangi said.
So far, four cohorts of Wings to Flyscholars totalling 6441 scholars have gone through secondary school with a 98% completion rate. 5476 have attained university entry qualifications, being an 85 % transition rate.
[crp]
At the same time, Reeta Roy, President & CEO, The MasterCard Foundation confirmed the continued support for the program and called upon the students to embrace the spirit of discipline, hard work and tolerance in order to be successful in life:
On the other hand, the German Government through KFW, also reassured Wings To Fly students of its continued support as it implored on students who do not make it at the university to take advantage of technical courses.