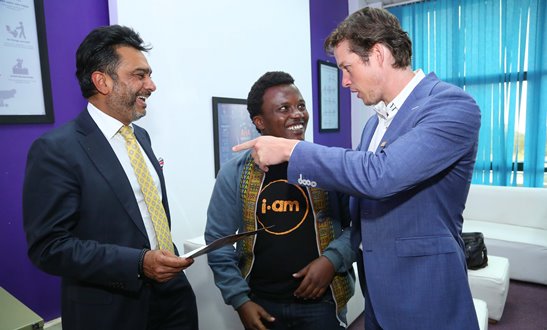 The United Nations Population Fund (UNFPA) in collaboration with Nailab, a technology driven business incubator, have announced four winning innvations around sex that will kick off the iAccelerator programme.
The 4 winning social-entrepeneurs' ideas – Fluid, Sophie Bot, Imara TV and Deaf Elimu – will go through a four-month acceleration programme that will pair them with expert mentors, enroll them in business management and development training and allow them access to seed-capital of Ksh 1 million.
The four were selected from 10 finalists during a pitching event held at Nailab.  The programme has been part of a regional initiative of UNFPA East and Southern Africa Regional office funded by UKAID. The contest was anchored on the I.AM, an initiative calling on young people to realise their desire to talk about, discuss, learn and understand their sexuality and sexual reproductive health by engaging with credible sources of information in safe and un-stigmatized environments.
The initiative through various engagements within learning institutions attracted 92 applications. "It's been an intense period for the team who have focused on mining and catalyzing innovative thinking by engaging with the best minds as we talk innovations on SRH.  This has been an interesting and quite an unexplored theme and we have learnt a lot from the young people in the process," said Ms Josephine Mwangi, Head of Communications and Marketing at Nailab.
Ms Mwangi said young people are heavily informed by myths that need to be debunked to help them understand sexuality conversation using technology. UNFPA country representative Mr  Siddharth Chatterjee noted that, "sustainable development cannot be achieved without assuring that all young people enjoy the dignity and human rights to expand their capabilities, secure their reproductive health and rights, find decent work and contribute to economic growth.  This is what the iAccelerator is all about."
The four finalists will go through acceleration that will run up to October.
[crp]
The 10 finalists selected after a rigorous two-day vetting process were:
Fluid (http://www.fluidkenya.com/)
A mobile Game that seeks to combine fun and learning by bringing to life the theories learnt on sexuality and sexual reproductive health thereby helping a young person deduce, react and decide on situations through gamification.
Sophie Bot (https://www.sophiebot.tk)
Sophie is an intelligent system that is fed with verified information on sexuality and sexual reproductive health and relays the information to its users through conversations that are driven by text or voice chats. Her features include anonymous forums and digital chat bots built in on the app, Facebook, Telegram, Messenger and Twitter.
Deaf Elimu Plus Limited (http://www.deafelimuplus.co.ke)
A web and mobiles based application that will enable deaf youth users to search for specific SRH information/words in Kenyan Sign Language (KSL) and to observe KSL stories and explanations about SRH through video content. It will also incorporate a gaming and quiz aspect to the videos.
Imara TV (http://www.imara.tv)
Imara TV is online system that crowd-sources and curates youth generated video content on human development, sexuality and identity and whose content is peer educators accredited.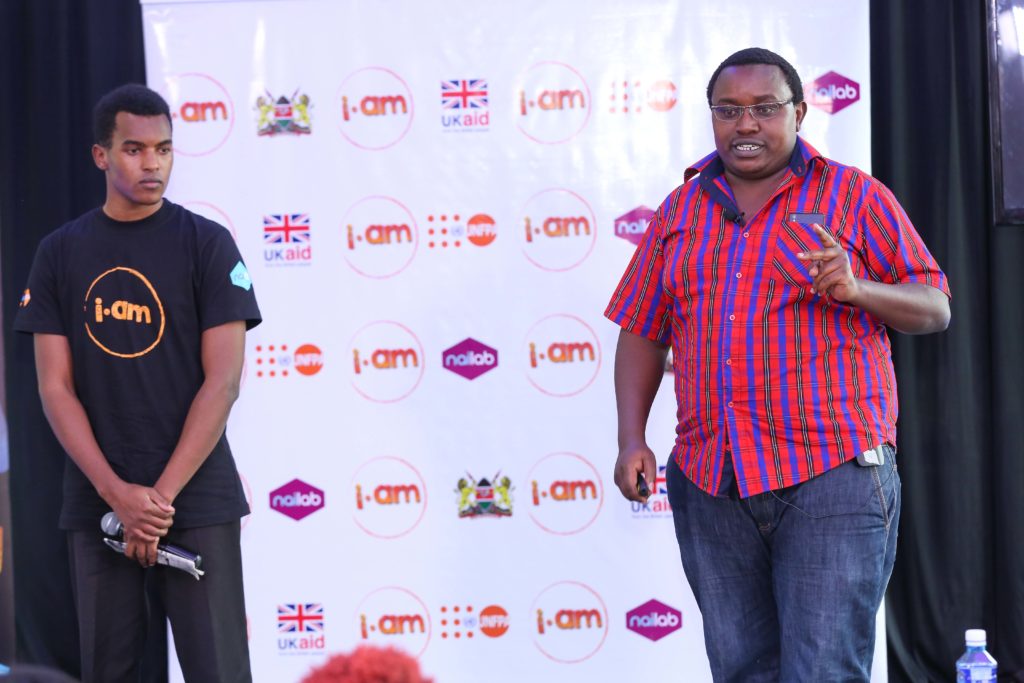 My V-Health
This is a vaginal wellness kit, synchronised with a mobiles app that tests for vaginal PH levels. The Kit consists of a pH tester strip and a pH chart. The pH test strip is placed on the inside of the vaginal wall and reacts to its pH level. The strip is then scanned using the phone application and system auto- matches the readings with pre-fed PH color readings.  In case of abnormal readings it provides information about the likely causes, possible solutions and where need be connects the user with a gynecologist .
Contraceptive SOS
This is the "uber" of condoms, pregnancy kits and contraceptives delivery for campus and college students.
Smart Sex (http://www.earyn.or.ke)
Smart Sex ™ is an online sexual health improvement and responsibility social enterprise that focuses on the attitudes, beliefs and behaviors that influence sexual health outcomes, whose aim is to reduce sexual health problems. This is done through the provision of initial diagnosis STI home testing kit with treatment options.
Marie (http://marie.vutiaech.com)
Marie is an interactive game quiz-based engine that contains a broad knowledge base of information about sexual reproductive health. Marie can also be able to answer any questions that the user may have on issues related to sexual reproductive health.
Bobea (http://healthindexeastafrica.com/wp/)
An online system that aggregates services and products by sexual health providers ranging from pharmacies, chemists, VCT, emergency providers and family planning centres.
Ask without shame (http://askwithoutshame.com)
Ask Without Shame is a mobile App, Instant Message service, and USSD number for voice calls, which is providing sex education and debunking myths and serves as an interactive platform to share concerns and pose questions to medical specialists anonymously and confidentially. It is educating the youth about sexual topics and answers their questions. The application currently has almost 10,000 questions answered since launch in December 2015.