Everyone dreams of being rich and while wealth does not come easy to many, there are many ways that one can rise from being a pauper to being a billionaire.
But, did you that sand could be an avenue for making you one rich person?
Here's some background and ideas that may make you rethink sand harvesting and sale.
A Chinese firm was in November 2017 banned from mining sand in Kitui due to the harm the activity causes the environment.
Global Demand for Sand
Synohydro Corporation was contracted to tarmac the Kibwezi-Kitui road and resorted to carrying out illegal sand mining on seasonal rivers according to the county's Environment and natural resources executive John Makau.
Makau said the county only allows loading sand into lorries using hand-held shovels by those licensed to engage in the business.
He said the Chinese contractor did not have the said permit and thus had broken the law leading to their being banned from sand mining.
The global demand for sand and gravel stands at 40 to 50 billion tonnes per year.
This demand has led to pollution, flooding, lowering of water aquifers and worsening drought occurrence.
In a report by the UN Environment, the aggregate extraction in rivers has led to environmental challenges which are cascading to affect most facets of life.
Titled Sand and sustainability: Finding new solutions for environmental governance of global sand resources,the report presents how shifting consumption patterns, growing populations, increasing urbanization and infrastructure development have increased demand for sand three-fold over the last two decades.
Further to this, damming and extraction have reduced sediment delivery from rivers to many coastal areas, leading to reduced deposits in river deltas and accelerated beach erosion.
"We are spending our sand 'budget' faster than we can produce it responsibly. By improving the governance of global sand resources, we can better manage this critical resource sustainably and truly demonstrate that infrastructure and nature can go hand in hand," said Joyce Msuya, Acting Executive Director of UN Environment.
Second-largest Resource after Water
Five years ago, Machakos Water Sewerage Company and the National Environment Management Authority (NEMA) banned sand harvesting in Machakos County.
The company's chairperson, Dr Lukas Mwove, said the move was critical due to the negative effects sand harvesting was having on the environment.
"We are banning this activity to protect the public resource from destruction and environmental degradation," said Mwove.
According to the UN report, sand and gravel resources are the second-largest resources extracted and traded by volume after water.
With sand extraction regulated differently around the world, important regions for biodiversity and ecosystems are made more vulnerable by challenges in the local implementation of these regulations.
Trading Internationally in Sand
A growing trend of unsustainable and illegal extraction in marine, coastal and freshwater ecosystems makes this a sustainability challenge with a display of the various extraction impacts on terrestrial, riverine and marine environments.
The report says that sand extraction is fast becoming a transboundary issue due to sand extraction bans, international sourcing of sand for land reclamation projects and impacts of uncontrolled sand extraction beyond national borders
International trade in sand and gravel is growing due to high demand in regions without local sand and gravel resources and is forecast to rise 5.5 per cent a year with urbanization and infrastructure development trends.
Unsustainable sand extraction does not only impact the environment but can also have far-reaching social implications.
Sand removal from beaches can jeopardize the development of the local tourism industry while removing sand from rivers and mangrove forests lead to a decrease of crab populations—negatively affecting women whose livelihood depends on the collection of crabs.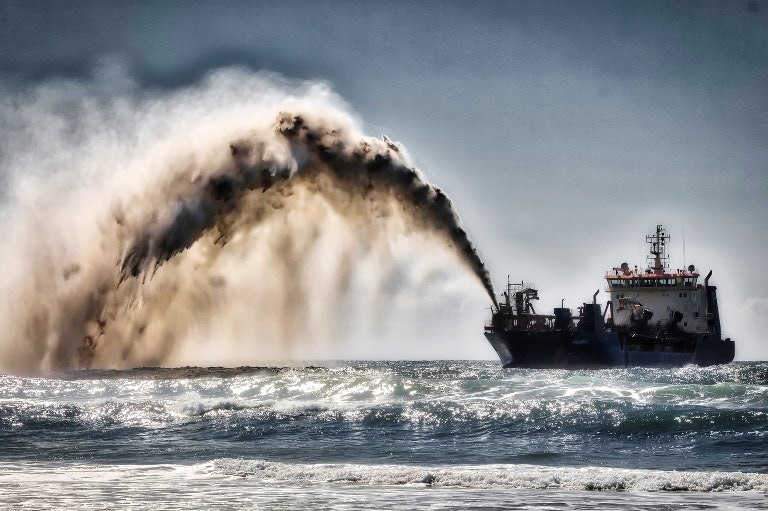 Sand Dredging
In April this year, protesters in Kwale used boats to block sand harvesting at Diani Beach.
The protesters including environmentalists, hoteliers and marine experts blocked the dredging vessel, MV Whillem Van Oranje, from scooping sand from water.
The sand was to be used in the construction of the Kshs40 billion Kipevu Oil Terminal at the Port of Mombasa.
Some of the world's top hotels and resorts in Diani include the Five Star Diani Reef Beach Resort & Spa, Swahili Beach, Baobab Beach Hotel, the Sands at Chale, Jacaranda Indian Ocean Beach Resort, The Sands at Nomads and the Leopard Beach Resort & Spa.
The Kenya Association of Hotelkeepers and Caterers executive officer for the Coast region, Sam Ikwaye, said: "Harvesting sand from Diani and any other beach is illegal. Diani Beach is likely to lose its allure of a clean white sandy beach once sand is scooped. We will not allow them to destroy the livelihoods of those who depend on the beach."
Diani Beach which is considered the best beach in Kenya and East Africa is located in Kenya's South Coast about 30 kilometres from Mombasa Island.
In 2014, the beach emerged top as Africa's Leading Beach Destination in World Travel Awards.
Sand Value Chain
The UN report further alerts that to meet demand in a world of 10 billion people without harming the environment, effective policy, planning, regulation and management will be needed.
Currently, sand extraction and use is defined by its local geography and governance context and does not have the same rules, practices and ethics worldwide.
The report aims to be a starting point from which a productive global conversation on sand extraction can begin.
To curb irresponsible and illegal extraction, the report suggests customization of existing standards and best practices to national circumstances.
It also points towards investing in sand production and consumption measurement, monitoring and planning, and further suggests establishing a dialogue between key players and stakeholders in the sand value chain based on transparency and accountability.
This report was presented to policymakers at the United Nations Environment Assembly where a new Mineral Resource Governance Resolution was adopted, including a call for actions on sustainable sand management."
After Water, Sand
Sand is a necessity after water.
The reason why sand is an important resource is that all the major building materials from concrete to glass are made using sand.
This makes sand an essential commodity coming second after water.
In a 2014 UNEP report, sand constitutes up to 85 per cent by weight of everything mined globally each year. Globally, sand mining is a USD70 billion industry.
After exhausting its marine sand supply, Dubai imports sand from Australia and reports show that the UAE imported USD456 million worth of sand, stone and gravel in 2014.