Kenya Airways shares have been suspended from trading on the Nairobi Securities Exchange for a period of three months to cushion investors during the ongoing takeover by the Government of Kenya.
Nairobi Securities Exchange said in a statement released on 3rd July 2020 that Kenya Airways, abbreviated as KQ, had applied for the suspension of its shares from trading. The airline's share register will also be closed until the resolution of its future is determined.
Saving national carrier?
"Notice is hereby given on the suspension from trading of Kenya Airways Plc shares," the NSE said in a statement today. "The company's operational and corporate restructure and Government buy-out is now imminent following the publication of the National Management Aviation Bill, 2020, on 18th June 2020."
The suspension was approved and issued by the Capital Markets Authority (CMA) pursuant to section 11(3) (w) of the Capital Markets Act and regulation 22 of the Capital Markets (Securities) (Public Offers, Listings and Disclosures) Regulations, 2002.
The suspension from trading the company's shares take effect from July 3, 2020 and will remain in force for a period of three (3) calendar months.
"All shareholders, investors and the general public are asked to take note of the suspension," the NSE said.
The KQ share at NSE has been experiencing a rally, defying the generally bearish mood on the stock market since Covid-19 struck in mid-March. KQ share has gained by 173.57% in the last three months – the highest on the NSE – to close Thursday trading at Ksh3.83.
If the National Aviation Management Bill 2020 is passed by Parliament, the government will take back full control of the national carrier by October and delist it.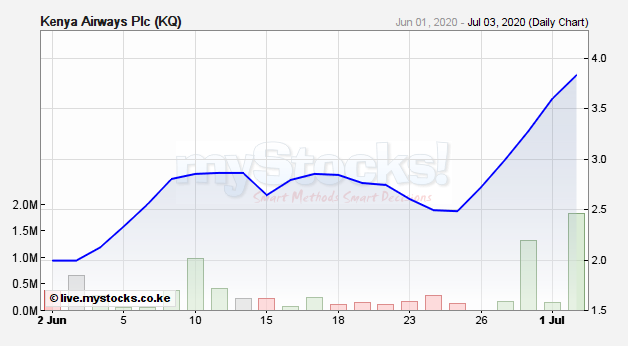 The loss-making airline is 48.9% government-owned and 7.8% held by Air France-KLM. The rest of the shares were listed at the NSE when it was privatised in 1996 but slid into debt and losses in 2014.
Air-France KLM, which had the option of selling its stake to the government and staying on as a technical partner for the airline, has opted to exit. The national carrier has been operating only cargo flights for essentials such as medicine since Covid-19 but is now hoping for a gradual resumption of passenger flights.
The change of ownership is seen as a lifeline for Kenya Airways, which has been experiencing turbulent times over the past six or so years, with revenues and profitability on a downward spiral.
The airline reported a Ksh12.9 billion loss for the full year ended December 2019, a 71.8% increase from the Ksh7.5 billion loss it posted the previous year.