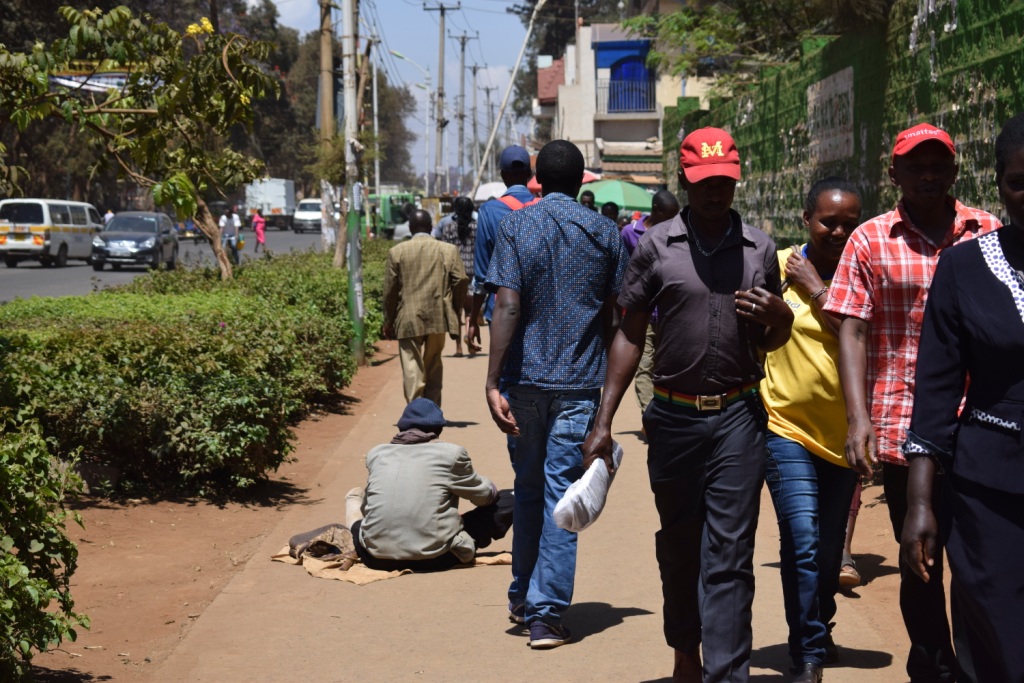 [dropcap]K[/dropcap]enya is ranked the most generous country in Africa as most Kenyans have no problem sharing their meager resources with other Kenyans thus the coined the Harambee adage.
The country's generosity, research indicate, has been growing in time making beggars' rate to rise significantly. Statistics show that the percentage of beggars in Kenya has risen from 6 to 12.5 in the past five years. Beggars coming from as far as Rwanda and Tanzania have found refuge in Kenya considering the generosity of the Kenyan people.
Our immediate neighbours from Tanzania have contributed 4% of the new beggars in the country's cities and towns.
In Thika, for instance, there are over 100 beggars spread across the various corridors and markets within the town and it is surprising that most of the beggars are not residents of the town.
Early in the morning, beggars are ferried by car, motorbike or tuktuk to their respective slots by enthusiastic handlers who pick them promptly in the evening after a day's collection.
Pablo Musioka, a street beggar who hails from Tanzania, has been on Kenyan soil for the last seven years where he has been getting his bread and donations from well-wishers.
He has a wheel chair that was donated to him by a Kenyan well-wisher and this was the greatest achievement for him as he can move around more easily.
"I never went to school because my mother was poor and a single parent. At first she was ashamed of me and she would leave me locked up in the house when she went out to fend for us. We lived in the interior parts of Makena after we left our home country until I was introduced to the streets to beg," said Musioka.
Beggars, who are mostly led to the streets by family members or fellow beggars, sometimes have no other alternative than stretching out their hands for well-wishers help.
Musioka and his mother came in search for job in Thika town and this was how he was initiated to the street as a beggar. He has been on Thika streets for seven years now with his mother who ferries him daily to go and beg.
"My mother carries me to the streets every morning and picks me up in the evening. It's been seven years now and my mother is now weak and fragile, she can't work anymore. I am the sole bread winner. I can't quit begging," added Musioka.
Miremba Natukunda from Uganda has been a street beggar for three years. She has a p*******d child who is psychologically disturbed. She doesn't have any family in Kenya except the well-wishers who feed her and her son.
Natukunda, who resides in the sprawling Kiandutu slums, has been living in Kenya for the last three years and she says that Kenyan people are more generous than her people back home and to her Kenya is more than her native home.
"I do not have relatives in Kenya and I do not wish to go back to Uganda because my home now is in Kenya. My husband together with his relatives threw me out of their home after they discovered that my child was p*******d," Natukunda said. "I realised I had to protect my son and that is how I took off and came to Thika a place that I now call home," revealed Natukunda.