Upbeat Kirubi roots for Kenya as top investment spot
Business guru hits at journalists not to be grave diggers by always telling the negative side of the story and, instead, aspire to inspire through positive stories
Kenya remains the best investment hub in Africa despite the World Bank projecting a decreased GDP growth of 5.5 per cent down from six per cent recorded in 2016.
Speaking at a policy breakfast at a Nairobi hotel where business journalists had converged to discuss the story of Kenya's current economic climate under the topic "The Future is Kenya", Brand Kenya chairman the country boasts of so many activities that are yet to be exploited and hence would continue to be a focal point for investors.
"I am an investor and I will candidly tell you that Kenya is the best investment place in Africa and even in the world. We have so many opportunities which have not yet been utilised. We have gold, the best soil for farming and even better climate than Israel, who do their farming in the desert. We need to start looking at our country positively if we shall attract investors," asserted Kirubi.
The business guru faulted the media for always presenting the negative side of the Kenyan economic story, which discourages investors.
"Everybody's future lies in his/her own hands, but the future of Kenya depends so much on you (journalists). Do not be grave diggers by always telling the negative side of the story. Always aspire to inspire through positive stories," said Kirubi. "Every time, I flip through newspapers looking for a business story, but the only story I find is about gambling, which is robbing Kenyans their hard-earned money."
On politics, Kirubi said that it is only the flourishing business climate and entities that can turn around any political duel and the story of a politically unstable nation.
However, Kirubi's positive outlook comes at a time investors have expressed concern over the charged environment surrounding the forthcoming General Election with some putting their plans on hold.
Kenya has also witnessed mixed results on the economic front with several companies laying off staff, retailers struggling to stay afloat and multinationals relocating even as others arrive to set shop in the country.
The World Bank's Ease of Doing Business Report ranks Kenya 92nd out of 190 countries in the 2017 edition of the report, up 21 places from the previous year trailing only Mauritius, Rwanda, Botwana and South Africa in Sub-Saharan Africa.
This was attributed to increasing innovation in Kenya, thriving business environment as well as rising middle class.
The meeting was sponsored by Business Advocacy Fund and the Strathmore Business School as part of a campaign dubbed 'Why the future is Kenya.'
The initiative is aimed at helping Kenya hit the Kshs9.5 trillion GDP level by 2020 as predicted by the International Monetary Fund (IMF).
The campaign draws business leaders from the financial, technology, service and hospitality sectors in a bid to open up under-developed areas of the country by continued investing that will provide access to jobs for more than 40 per cent of Kenya's population and bringing in investments equivalent to five to eight per cent of the GDP.
GDC CEO gets mixed up in hiring of senior manager
Johnson Ole Nchoe is embroiled in an internal cold-war with a section of management who see him favouring one candidate for communications manager position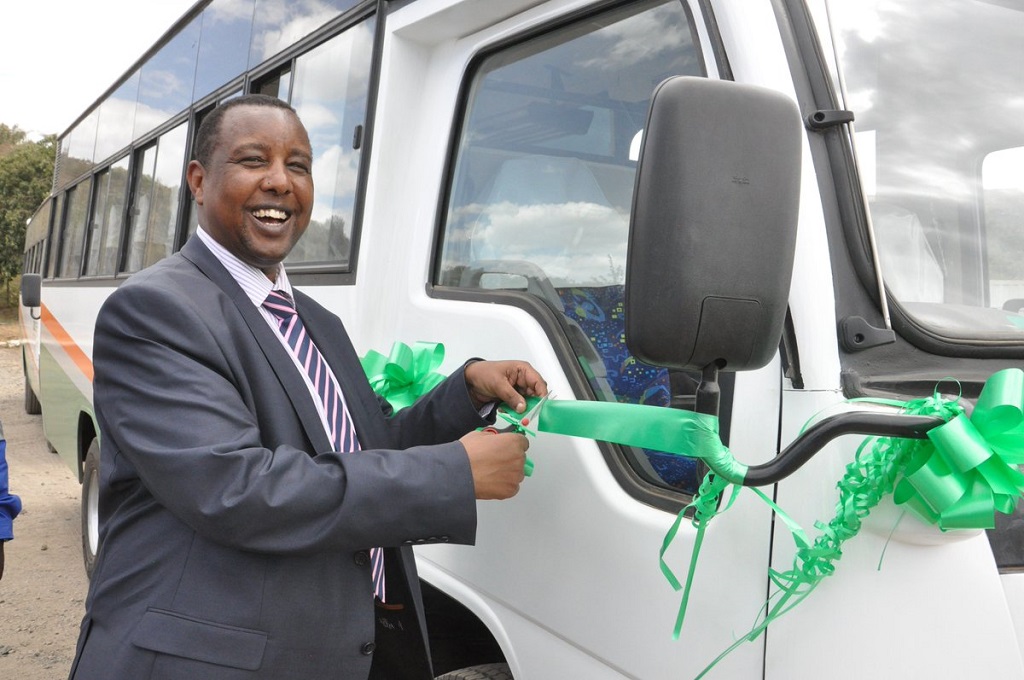 Tension is brewing within the Geothermal Development Corporation (GDC) boardroom as the company scouts for an in-house communications and marketing manager.
The company's CEO, Mr Johnson Ole Nchoe, is embroiled in an internal cold-war with a section of the board and management who see him favouring a former GDC communications manager, Ruth Musembi, who left two years ago.
The post of corporate communications and marketing manager fell vacant in March 2015 after Ms Musembi resigned under unclear circumstances, claiming to have done so under duress. She even requested the human resource office to release part of her pension.
Her resignation letter dated March 16th 2015 indicated she would cease being a GDC employee on 30th April, 2015.
"I have tendered my resignation effective today," she wrote in her resignation letter seen by Business Today, which was sent to human resources general manager Irene Onyambu and copied to the managing director and the general manager for corporate affairs.
"I will serve one and a half month notice and utilize my outstanding 30-day for the rest of the notice. Please, organize my final dues. I would like to access the portion that is permitted under the law."
Four months later, in August 2015, she was back at GDC after being rehired under a one-year contract without competitive interviews being conducted.
The contract was silently renewed in 2016, according to insiders at GDC, in breach of the company's hiring policy.
Meanwhile, after returning on board on contract, Ms Musembi, who worked earlier for NEMA as communications manager, is said to have immediately hired a PR agency linked to her to manage the company's communication needs, at a time the communications department was seen to be overstaffed yet underworked. This elicited protests from the staff who collected signatures in a petition to denounce the act.
These so-called whistle-blowers were reportedly punished by being transferred to different departments. "The then general manager Christopher Leparan and the CEO Johnson Ole Nchoe desperately invoked the transfers as a mechanism to punish the staff," said the source. "The transfer allowances paid to the staff ran into millions of shillings."
Two and a half years after resigning, Ruth Musembi is set to make a comeback as to GDC's payroll, if the CEO has his way.  Her contract ended on 31st August 2017, in a move that is likely to cause uneasiness in the board as well.
In June 2017, GDC advertised the post internally. The advert, which read as if crafted to suit Ms Musembi, a former teacher, required a minimum of 12 years of experience as a manager among others, in what was seen as a ploy to lock out younger managers in the department who would be interested in the job.
Ironically, when GDC advertised for the post of General Managers, a more senior position, it asked for only five years' experience. The staff union protested against the internal advert, and it was silently pulled down.  The company then advertised externally in the newspapers but reduced the number of years of experience from 12 to 10, with 5 as a manager.