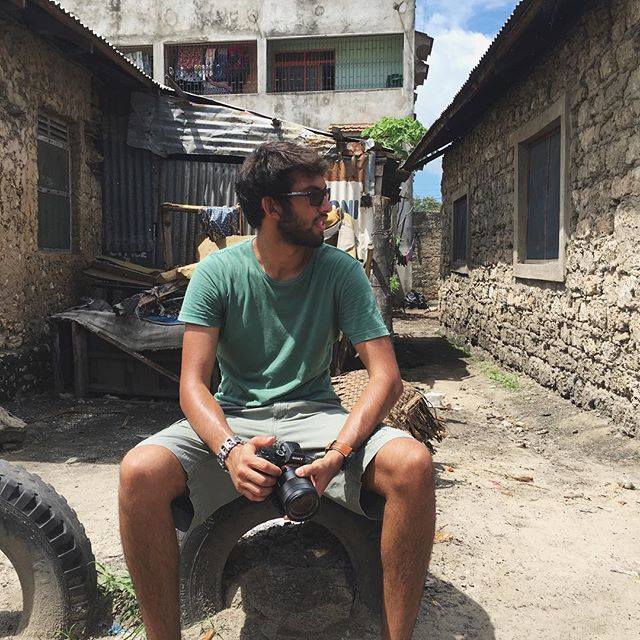 [dropcap]H[/dropcap]atim Hassanali is the go to guy when it comes to film production. The man wears many hats works as a cinematographer, composer, producer and director. This charming and creative Kenyan-based film make of Canadian-Kenyan nationality has made it his obligation to tell a story through film to inspire people since his tender age.
For Hatim, his cinematography dreaming days began at the age of nine. While watching a movie in a plane, he decided that he wanted to make films for the rest of his life. At the age of 15, he had already written, directed and shot short films, documentaries, music videos and commercials in Canada.
For someone who understands his calling, he uses film to educate people. He argues that there are those who love to read, and those who don't; hence it is up to him to bring life to his viewers.
Three years ago, he made his debut film – a documentary titled Kazi Na Bidii, depicting the lives of those on blue collar jobs. Hatim himself was filmed doing a lot of jobs such as being a tout, and even more memorably pushing a mkokoteni (cart) from Kongowea Market in Mombasa to the ferry.
To even challenge himself by acting in the film shows the dedication he has to making things perfect. What won't this guy do? Modern conventions of love making is also another one of his films that he loves and could be found on his website.
The businessman
Known to build excellent relationships with his clients, Hatim runs an advertising agency called Mara Moja Productions, which is well known for its work in film and video production, branding, PR, social media and everything digital. With its headquarters in Mombasa, he has done work for names such as Graphic World, Fayaz bakery, Kenya Society for the Protection and Care of Animals (KSPCA) and the Aga Khan Academy, among others. Fundi Film is another of his companies that he launched mid-last year known for visual storytelling with short and feature films, commercials and television content. It provides its services in East and Central Africa regions.
He says he has the passion, and the drive for his work.  The fact that he is doing what he likes, doesn't seem like work to him.
What he does best is that he makes sure he delivers what his clients want. "An aspiring cinematographer should hustle his or her way into the film industry. Even if you have a crappy camera, don't stop shooting. Go ahead and film anyone; go to a garage and so on and just ask people if you could shoot them for free."
He believes one should have a portfolio that enables an individual to sell their work; DM random people, tweet, and even inbox future clients on Face book in order to hype engagement with audiences to and have your name out there. The more engagement, the more people know about you and the more chances of turning that into actual paid clients.
The motivator
Hatim also assists as a celebrity partner, educator and charity worker across Africa. He loves to do projects that help the less fortunate for he believes every individual needs a push now and then. Hatim was one of the motivational speakers at the TEDx talk in Mombasa in January this year alongside celebrity musician Juliani and Kenyan Olympic archer Shehzana Anwar, among others.
He will always tell individuals to follow their heart and never stop to pursue their passion in life. For him, it is not all about being book smart of which he is not objecting to. A degree holder in film, he will shoot anything that comes his way.
The passionate guy
Hatim is passionate about educational reform, arts education, social-economic development and empowering individuals through innovative technology.  Mara Moja International Programme, also known as FilmEd Kenya was launched in 2014. It offers master classes in film, media and artistic education in order to develop film in developing countries such as Kenya and Tanzania.
"The challenge Kenya faces in the industry is getting the ball rollin,g" Hatim states. Expounding on that, he says getting jobs to make money in Kenya is not an easy task. He urges people who would like to venture in the cinematography industry to find something that differentiates them; they should find their own look. As for Hatim, his selling point in shooting is the movement of his camera and lightning technique.
All work and no play
If he is not shooting film, he is shooting guns at the gun range, going to the beach, enjoying a ride around town or even travelling.
What the future holds
In 2018, Mara Moja plans to add wedding films in their umbrella of capabilities. With 18 years of experience in the film industry both locally and internationally, they promise to make the experience spectacular. If you want it, you will get it; one of his most famous quotes for the world. Hatim sees himself with an Oscar five years from now. "If not an Oscar, it will be some big film award."
It is also safe to mention that Hatim and his good friend and colleague former IKEA marketing director Michael Flynn are working together on an entrepreneurship academy, where they will be training, mentoring and helping aspiring entrepreneurs find the right path in business.
"Not only will this involve business skills training but also interpersonal, speaking, presentation, human behavioural traits and various other skills will be taught too. We'll have musicians, journalists, bankers, investors, venture capitalists, CEOs, you name it, all mentoring the students during this incubation period. Some of the notable speakers will include activist Boniface Mwangi and soul musician AntoNeosoul. By having people from all sorts of professions, we can reach people that want to do very many different things and still give them the right guidance." he stated.
They are currently working on their site maramojaproductions.com/entrepreneur which will give you more information when it is officially launched in a few weeks.