Disquiet is brewing at Nation Media Group (NMG) after staff from the digital department were given a generous bonus on account of returning a profit in the last financial year while those from other segments have gone for three years without any rewards from the media house. Senior executive editors were also handsomely rewarded.
NMG staff previously used to get a three-month salary equivalent bonus every first quarter of the year but this has not been the case as the Nairobi Securities Exchange (NSE)-listed company has not been performing well due to various factors including reduced ad and print sales revenue as well as the impact of the migration from analogue to digital broadcasting.
However, this year, the management opted to reward the digital team after it returned an income increase of 42%, registering the highest growth in the group during the year.
In contrast, revenues from Daily Nation dropped 10%, The East African 21%, Business Daily 11%, Daily Monitor (Uganda) 3% and Mwananchi of Tanzania 12%. While NTV's income grew by 12%, it was devoured by costs which went up by 14%, resulting in a 58% drop in in general operating results.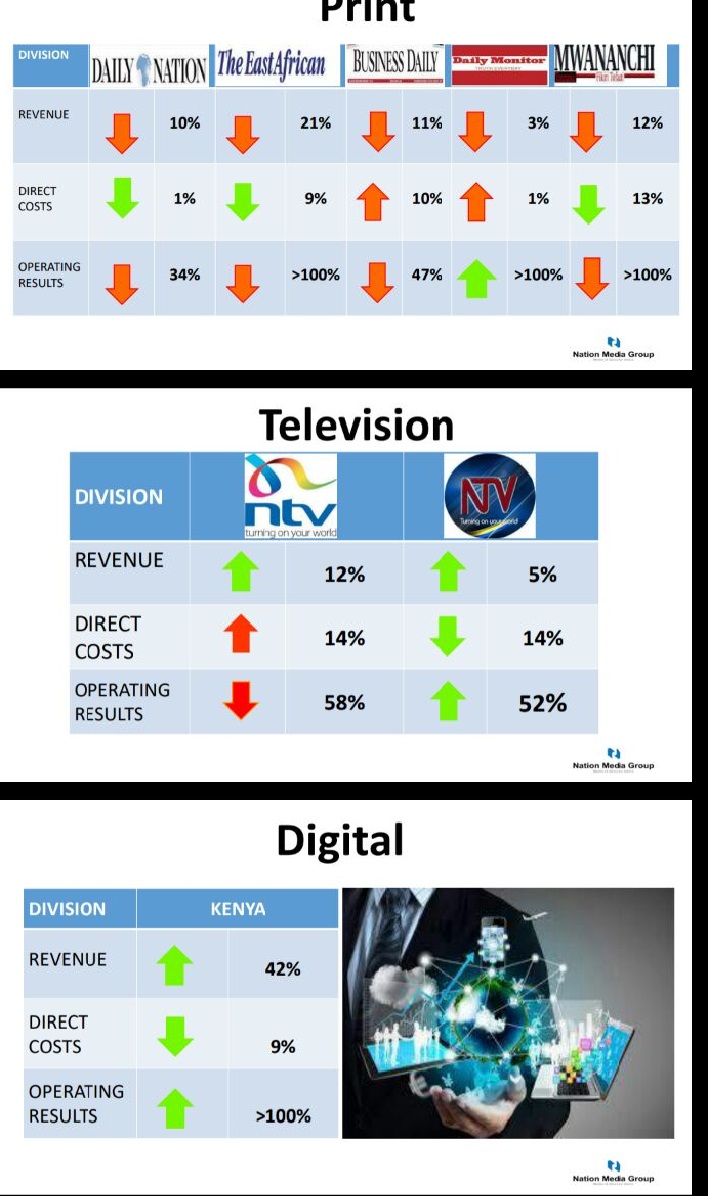 However, staff from  the print and broadcast divisions are aggrieved with the turn of events, arguing the digital department thrives on content they generate and hence should not have been rewarded in isolation.
NMG  recorded a 20.5% drop in profit before taxation (PBT) to Ksh 1.95 billion, from Ksh 2.46 billion in 2016 while turnover shrank 6% from Ksh 11.3 billion to Ksh 10.3 billion, as advertising revenues reduced and circulation for newspapers dropped. Besides, the company's earnings were dented by the one-off restructuring cost of Ksh 260 million, which included retrenching staff, and provisioning for advertising debts to the tune of Ksh 300 million.
This meant the company could yet again not afford to offer the incentives it previously extended to staff, including annual bonuses.
The media house's diminishing financial might is said to be part of the reason it has suffered a staff hemorrhage in recent months with key editors and reporters heading for Nation Centre's exit door in search of greener pastures.
During a recent staff meeting to introduce new CEO Stephen Gitagama, a Human Resource Department manager was bold enough to reveal the office has been inundated by calls for a salary review, which has not been forthcoming as they company seeks to trim its wage bill, which has seen it push put key staffers.
But it is the decision to reward a section of staff that is likely to further dent morale and it remains to be seen how NMG will be able to attract and retain talent going forward.
Analysts says the fact that NMG has seen more exits from its broadcast arm, NTV, is as a result of the fact that its staff have traditionally felt segregated as their contractual terms do not, among other, allow them to join a trade union and are hence unable to negotiate better terms and assure themselves of job security, a regime that was imposed during the tenure of Ian Fernandes, a former general manager who is now CEO of Mediamax Network Ltd.
READ: MKU FOUNDER SETS UP TV, RADIO STATIONS
Some, however, say the decision to reward the digital team could be an attempt to assuage them following claims they were working under difficult conditions in the hands of three expatriates hired by the media house, whom some staff had accused of highhandedness and insubordination of locals.