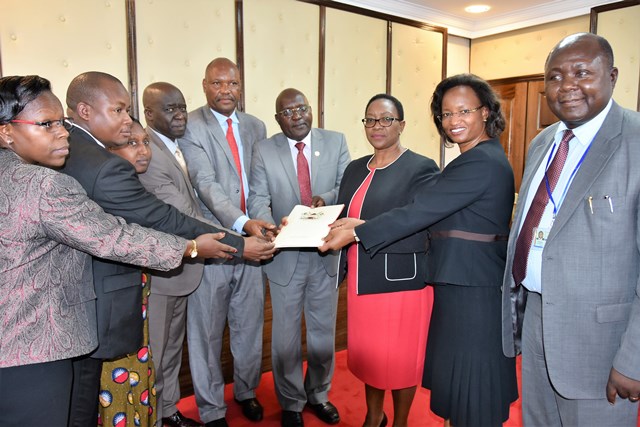 Cancer combined with cardiovascular diseases, diabetes and chronic respiratory disease is causing over 30% of all deaths and 50% bed occupancy in all hospitals in the country.
Every year, there are 40,000 new cancer cases and over 27,000 deaths making it the third cause of death after infectious diseases and cardiovascular diseases in Kenya.
Speaking Thursday during the inauguration of the Clinical Officers Council and the Tobacco Control Board at Afya House boardroom, Health Cabinet Secretary Sicily Kariuki said optimal health is the cornerstone of economic progress, as healthy populations live longer, are more productive, and save more.
Kariuki noted that tobacco harms the health and economy of our country every year, with more than 8100 people killed by tobacco-caused disease, and the economic cost of smoking in Kenya amounting to Ksh 2.9 billion every year.
"It is therefore important that we inaugurate the Tobacco Control Board at a time when the world is focused on controlling Non-Communicable Diseases (NCDs)," she said.
The CS explained that there has been very marginal decline on the use of manufactured cigarettes and cigars, hand-rolled cigarettes, pipes, shisha, snuff, chewed tobacco and kuber from 9% in 2012 to 8% in 2019 meaning that about 2.2 million Kenyans use tobacco products, out of which two-thirds smoke cigarettes.
"In line with the Tobacco Control Act , I will expect the following roles from the control board namely timely policies on the production, manufacture, sale, advertising, promotion, sponsorship and use of tobacco and tobacco products," she said
The board, she added will also be expected to look into permissible levels of the constituents of tobacco products or their emissions, standardisation of ingredients of tobacco products required to be prohibited under section and regular testing for conformity with the requirements standards in labeling, packaging, sale, and distribution of tobacco products.
Congratulating also the Clinical Officers Council, Kariuki said she expected them to play their prescribed role of regulating training, registration and licensing of clinical officers.
While noting that we have 20,000 clinical officers in the country, the CS emphasised that she will expect nothing but quality in licensing and regulation of their practice including adherence to their scope of service and continuous medical education.
The Lancet 2018 global report indicates that close to 20,000 deaths in health facilities in the country are linked to low quality of health services including clinical care.
"Clinical Officers and Nurses are the cornerstone of primary health care services delivery in the country and therefore there is no UHC without quality health services" she said adding that she also expects a Rapid Results Initiative (RRI) in their organisations with results expected in 90 days.
The results should include strategic plans for the council with key deliverables during their tenure, Human Resource for Health assessment in health facilities in line with the Ministry of Health Standards and norms, joint inspection and licensing of health facilities in the country together with other regulatory bodies under the ministry of Health.
Others are health services safety including infrastructural audit in health facilities in line with the infrastructural and occupational health norms of the ministry and quarterly reports on staffing including quality of health services in the four UHC pilot counties in line with standards and norms for the health facilities