Bots, and accounts displaying machine-like behaviour, were active across all elections held in Africa between June last year and March this year, particularly in Kenya, London-based Portland Communications' latest study into 'How Africa Tweets' shows.
One of the more surprising findings from the study was the limited influence politicians had on the conversation. Rwanda was the exception, where 1 in every 3 influential handles was a political account – the highest figure across all elections analysed. This doesn't mean politicians weren't being talked about. Many of the top hashtags included references to politicians or political parties, including #UmaAngolaParaTodos in Angola, #Weah in Liberia and #Kagame in Rwanda.
In Kenya, journalists and news organisations comprised one-third of the influential Twitter handles tweeting on the August 8 election, which pitted bitter rivals, President Uhuru Kenyatta and NASA's Raila Odinga. Bots accounted for about a quarter, while business leaders accounted for 10% of handles.
The vast majority of influential accounts were Kenyan. Of the bot and business
accounts identified, 89% and 86% of the respective accounts were Kenyan.
The majority (57%) of journalist and news organisation accounts were located in
Kenya too; the share of outside influence was, however, high, with 43% of accounts
located outside the country, a reflection of the large international press corps reporting
on the elections.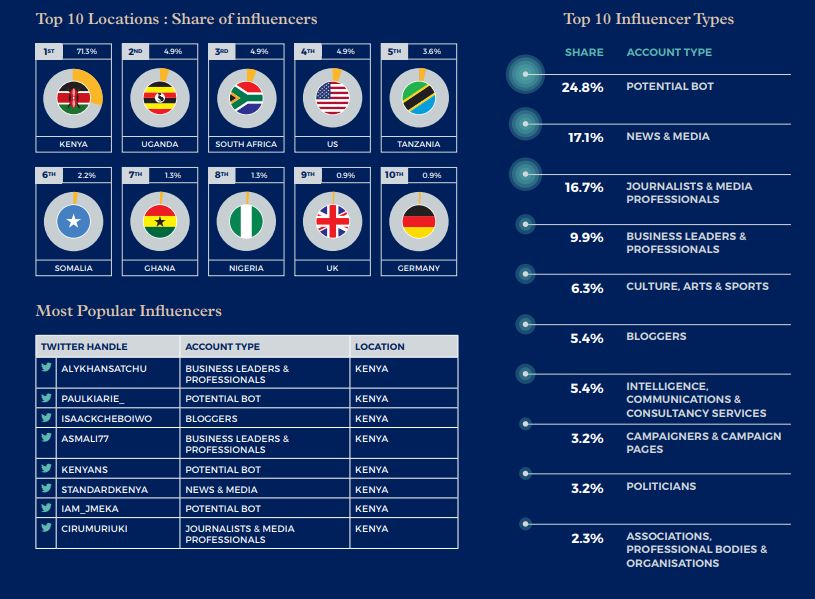 A review of the conversation driven by journalists and news organisations showed
a focus on the debates and key issues being discussed around the election. Business
leaders joined in the conversation mostly around #KenyaDecides, and focused their
tweets on discussions around the presidential debates, the importance of Kenyans having
a choice in the election, as well as offering praise to government officials.
As was the case during the August general election, journalists and news
organisations represented the leading influencers in the repeat poll ordered by the Supreme Court, accounting for 30% of influential handles.
Related: HOW US FIRM SPREAD BIG LIES TO TAINT RAILA
Second, were bots comprising 28% of influencers. This was the only election
where bots represented the highest number of influencers. This means bots made up
the highest share of influencers in both Kenyan elections, accounting for 26% of all influential users who took part in Twitter conversations – 25% for the August election and 28% for the October election.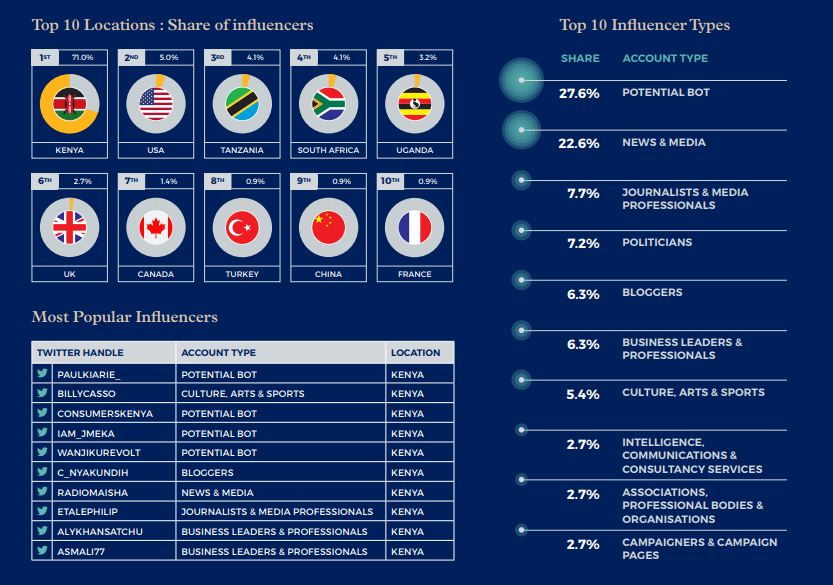 As the volume of influential automated accounts increased slightly between the two elections, so did the involvement of politicians.
READ: FISHY FASHION OF KISUMU
In the second  election, the share of influential political accounts more than doubled from
three to 7%. Foreign news organisations and journalists accounted for 15% of the influential
accounts in the August election (52% of non-domestic handles) and 14% of the influential accounts in the October election (49% of nondomestic handles).