Give a woman love, care and attention and she is all yours, and you are the only man she knows. But how to give her these varies among men, with some messing without knowing. Women pay attention to detail, hence you should tread softly when handling them lest you annoy them through the following:
Drift your attention to another woman in her company
Women are jealous naturally, and anything that seems to drift your attention from her makes her mad, though she might not always say. Whenever you go out with her, avoid staring at those half-naked girls as it makes her feel insecure.
Some men tend to forget about a conversation they were having when a woman passes in front of them, forcing their women to start the conversation again. A woman needs a listening ear, more than she needs the date.
Whenever you meet friends, avoid taking so much time talking to them. Remember that it was not their day, it is her day.
Bringing on board friends during a date
Whenever you agree on a date with your lady, she expects to be with you alone. Bringing friends on board does not apply only to women, but also some men do it. They invite their friends in the name of 'take me somewhere' when invited for a date. A woman feels annoyed when having time with you and you tell her that 'somebody is waiting for me outside'. Man up and learn to go to dates alone, its about the two of you, not about your friends.
See Also >> New research shows Kenyan men are the most faithful in Africa
Forgeting important dates they treasure
Women are 'petty', hence what seems small to you is of life importance to her. Never ignore important dates like birthdays and anniversaries, because she won't forgive you for it. In these important make surprises to show that they bear equal importance to you, though they may not.
Turning off their shows in place of your favourite game/programme
A woman will haté you forever for turning off her favourite shows on Tv, especially soap operas. Even if it is news time and she is  watching a show she loves, find an alternative. This does not mean that she is ruling your house, but it is a show of love and respect to one another. She feels more love and appreciated for the opportunity, and this makes her more loyal.
Also during the show, do not try engaging her in a conversation, or else she will curse you. Instead, give her a ear whenever she makes a comment about a certain character or scene, so that she doesn't feel lonely.
Describing to her how celebs are hot
As said earlier, women are jealous and they will not tolerate anybody or anything that grabs the attention of their husbands from them. Women need constant assurance of your love, and complementing celebs doesn't assure her of any love, instead it is a depiction of possible betrayal. Always tell her how she's the best woman you've ever met.
Making vague plans
Everybody hates broken promises, including your woman. Never promise her what you can't make, as it breaks trust. Somebody said that 'you better trust me but not love me'. Whenever trust is broken, it can never be repaired and this marks the genesis of a heartbreak.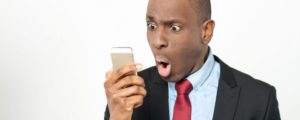 Taking time to reply/receive calls
Being possessive women do not like being kept waiting for too long. Never take too much time to reply a text message from your woman, this annoys her. If you are busy, or you'll be in a situation that you cannot talk to her, inform her before so that she doesn't have many expectations. Also, receive her calls promptly or return her calls immediately you find a missed call, and apologise the first thing. Apologizing does not make you a lesser man, does it?
Next Read >> Donate sperm and earn Ksh12k
Comparing her to your exes
Exes make their past in your life, and they never managed to walk the journey with you. Since they exist in your past, do not try bringing them into your present. They will ruin it, just the way they ruined your past relationships. In fact, avoid talking about your exes with your woman, unless she asks, and even if she asks avoid comparing her with them, even when she wrongs you.
Acting like a woman
There is a reason a woman wants to have a man. It annoys your woman when your behave like her in terms of dressing, talking and even reacting. Some men also become so weak when sick, to an extend of being a burden. Whenever challenges come, try your best to be a man. Your woman will not enjoy feeling like they are two women in the same house.
Acting like an immature man-boy
Life is short, only fun makes it sweeter and longer. However, fun should not be taken too far to depict immaturity. Some men think that cracking too many jokes will keep your woman happy. Sometimes it is irrelevant and annoying to an extend of boredom. Joke at the right time, and be serious on issues that matter. Do not display immaturity through jokes, man-up.