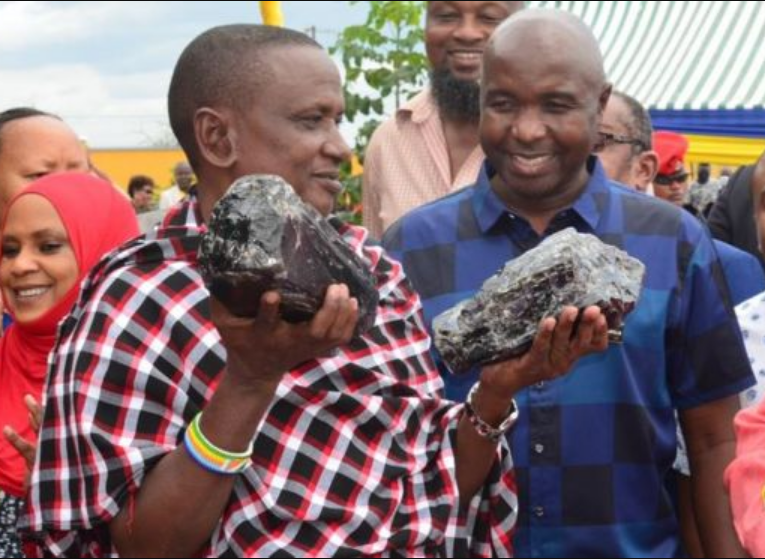 A local Tanzanian miner is laughing all the way to the bank and sliding into the dollar billionaires club after discovering two of the biggest Tanzanite stones ever dug up in the country, earning him placation from the government along with a Ksh350 million cheque along with it.
Saniniu Laizer discovered the two rare stones weighing 9kg and 5kg – a combined 14kg – at a mine on the northern side of the country.
According to the BBC, a Tanzanite stone's "appeal lies in its variety of hues, including green, red, purple and blue" and is projected to be depleted in the next two decades.
Laizer sold the dark violet-blue gemstones to the government, through the Ministry of Mining fetching $3.35 million (about 7.74 billion Tanzanian shillings or Ksh350 million).
"Today's event is to recognise the two largest tanzanite gemstones in history since the beginning of mining activities in Mirerani," said mining ministry permanent secretary Simon Msanjila while presenting the 52-year-old with the cheque.
Mr. Laizer also received a congratulatory phone call from President John Magufuli during a live television broadcast.
The man, who has over 30 children from four wives, has since said he will host a party to celebrate the feat at his house where he will s*******r one of his over 2,000 cows.
"I want to build a shopping mall and a school. I want to build this school near my home. There are many poor people around here who can't afford to take their children to school," he told the BBC.
"I am not educated but I like things run in a professional way. So I would like my children to run the business professionally."