A day after Safaricom's board of directors announced the appointment of Peter Ndegwa as CEO of the most profitable company in East Africa, the telecommunication giant's stock soared on the floor of the Nairobi Securities Exchange (NSE) to close the week as the bourse's top mover at 33.3% of the week's traded value.
By close of business on Friday, Safaricom stock was a top draw with 47 million shares valued at Ksh 1.3 billion transacted at between Ksh28.25 and Ksh28.70.
On Thursday, the company only moved 3 million shares worth Ksh86 million at between Ksh28.40 and Ksh28.60 which represented 10.08% of the day's traded value, this could be attributed to the company's decision to make the appointment announcement after the markets had closed.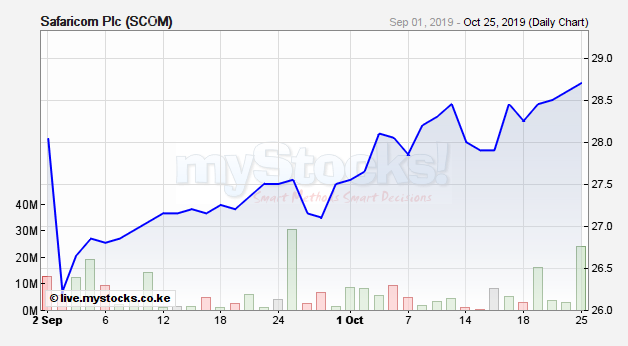 Safaricom put an end to sustained speculation over who would be taking over the reins at the blue-chip firm by announcing Diageo's Managing Director, Continental Europe Peter Ndegwa as its new CEO effective April 1, 2020.
Ndegwa, a seasoned executive who boasts of an enviable career in business management currently oversees the operations of Diageo in 50 countries in Western and Eastern Europe, Russia, Middle East and the North Africa region.
Speaking during an interview on Thursday evening, Acting Chief Executive Michael Joseph threw his weight behind Ndegwa's appointment and trashed reports that the board had ceded to the government's demands to appoint a Kenyan as CEO.
"I wouldn't say the board gave in to demands. Personally, it's the right thing to do. After 19 years, a Kenyan should be running Safaricom. The appointment is just a natural progression more than anything else," Mr Joseph, who sits on the company's board stated during the interview with Citizen TV's Yvonne Okwara.
Read: The Man who Brought you Senator KEG is now Safaricom Honcho
He, however, intimated that there has been sustained pressure from different quarters to toe the government's line.
On July 2, ICT Cabinet Secretary Joe Mucheru went public reaffirming the government's determination to see a Kenyan installed as CEO before quickly backtracking on the same comments two weeks later and saying that the government would not interfere with the search of a new chief executive.
On one hand, the government has remained adamant on its position albeit low-key but shareholders have not shied off expressing their concerns at the appointment of a Kenyan as CEO with the popular opinion being that a local was likely to bow down to the government's interests.
Mumias and Uchumi are examples of companies cited as former giants that collapsed as soon as Kenyans were handed the keys.
See also: Who is Peter Ndegwa? The Man Trusted with Bob Collymore's Legacy
When the late Bob Collymore died on July 1 after driving the company from strength to strength since 2010, many speculated that either one of senior executives including Chief Customer Officer Sylvia Mulinge or Chief Officer Special Projects Joseph Ogutu would be tapped but that hasn't happened.
At the time, Joseph said that in order to be appointed CEO, one had to understand the company's DNA, it seems that person is Ndegwa.