One major criticism of the 8-4-4 education curriculum, currently being phased out, is being too theoretical and offers no room for learners to explore their talents while programming students into examination-oriented individuals.
In any major economy, universities are central to economic planning and that is one of the major reasons for the introduction of the Competence-Based Curriculum, known in shorthand as CBC.
Moi University has partnered with jp.ik, a Portuguese IT solutions firm to assemble laptops, personal computers (PCs) and tablets at its Rivatex Complex in Eldoret Town.
Range of laptops & PCs
jp.ik and Moi University have jointly invested over $5 million (Ksh500 million) in the assembly plant which has a capacity to produce 4,500 devices per day translating to over 100,000 devices per month.
Moi University, through the MU Technologies, on Tuesday 22nd October 2019 showcased the new products portfolio at an event held at the Nairobi Serena Hotel.
The products launched included Desktops: MU Fortune Slim, MU Fortune DT, MU Fortune Liva Z Plus VPro, MU Fortune Liva One VPro and MU Fortune WKS).
Notebooks are MU Trigono V401 Plus, MU Fortune Work book, MU Fortune Slim book) and an All-In-One (MU Fortune AIO).
MU Fortune Workbook
The plant currently employs 100 people directly and over 1,000 people indirectly. In addition, the plant has the capacity to employ 300 people directly and 3,000 indirectly when production is at its peak.
MU Fortune Slim
Speaking during the launch of several new devices at a Nairobi hotel on Monday, the Vice-Chancellor of Moi University, Prof. Isaac Kosgey said the Digital Assembly plant inaugurated this year has so far assembled 150,000 ICT devices for the Kenya Digital Literacy Program and a further 70,000 devices for the recent government census.
MU Trigono V501
Some of its devices were used by enumerators to key in the data they collected. "As a university, we are proving that Kenya has the skills and capacity to build local technology that can compete on a global stage," said Prof Kosgey.
Read: Moi University Trims Departments as Cash Crunch Bites
jp.ik & Moi University's products branded MU are modern and made to appeal to a wide variety of users depending on a potential buyer's preferences.
MU Fortune Liva Z Plus VPro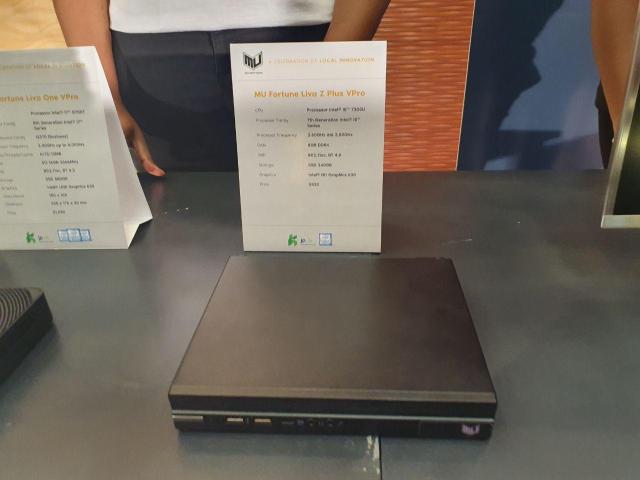 At the plant which is run by the most brilliant IT students from across the country, lies different production sections that work in unison to produce the locally assembled computers.
What all this means is that the country's best IT minds will be put to work and gain the necessary experience at the highest level, skills they will then pass on to the next generation.
Producing the gadgets locally will also be a boon for the economy as Kenyans will feel inclined to buy local products and marks the strongest response yet to foreign brands like HP, Mac, Lenova, Toshiba, Dell, and IBM, among others.
Nick Broda, jp.ik's Head of Sales Worldwide, expressed confidence in the assembly plant's capacity to meet demand from local and regional markets.
MU Fortune Liva One VPro
"As we continue to develop our sales channel, we will work with local and regional companies that have a wide distribution network of consumer goods and an interest in distributing and selling ICT devices. We have done our market research and established that there is a big market for these products and are fully invested in developing this market. We are able to customize our devices based on customers' demand
See also: New AI Technology to Detect Risk of Heart Attack
However, there is the possibility that if not properly checked MU's products might get outmuscled by cheaper imports as the government maintains that Kenya is an open market and local products must compete with imports.
"We've put in place measures to make sure that this facility is operating in a conducive business environment but as a government, we recognize that Kenya is an open market where everyone can do business under a proper regulatory environment," said ICT Principal Secretary Jerome Ochieng during the launch.