The government has lost the goodwill of a majority of Kenyans- at least on social media- and this has come to the fore with the COVID-19 aftermath.
With police brutality seemingly sanctioned from the top echelons of government to being denied the right to make a living, Kenyans are stuck between a rock and a hard place and they are getting weary.
And now, with the dictatorship on how and when to offer support to Kenyans who are struggling, many well-wishers feel that the government is seeking to profiteer from the calamity.
The Principal Secretary, State Department of Interior Karanja Kibicho has not been late to dampen the party for those who wanted to independently support Kenyans.
Cracking down on alternative avenues of offering assistance hindering a concerted effort to ensure that no Kenyan suffers from hunger at this time, Kibicho shared a statement from his ministry signed by CS Fred Matiang'i warning Kenyans against distributing foodstuff or offering any other kind of assistance unless it is done through the government.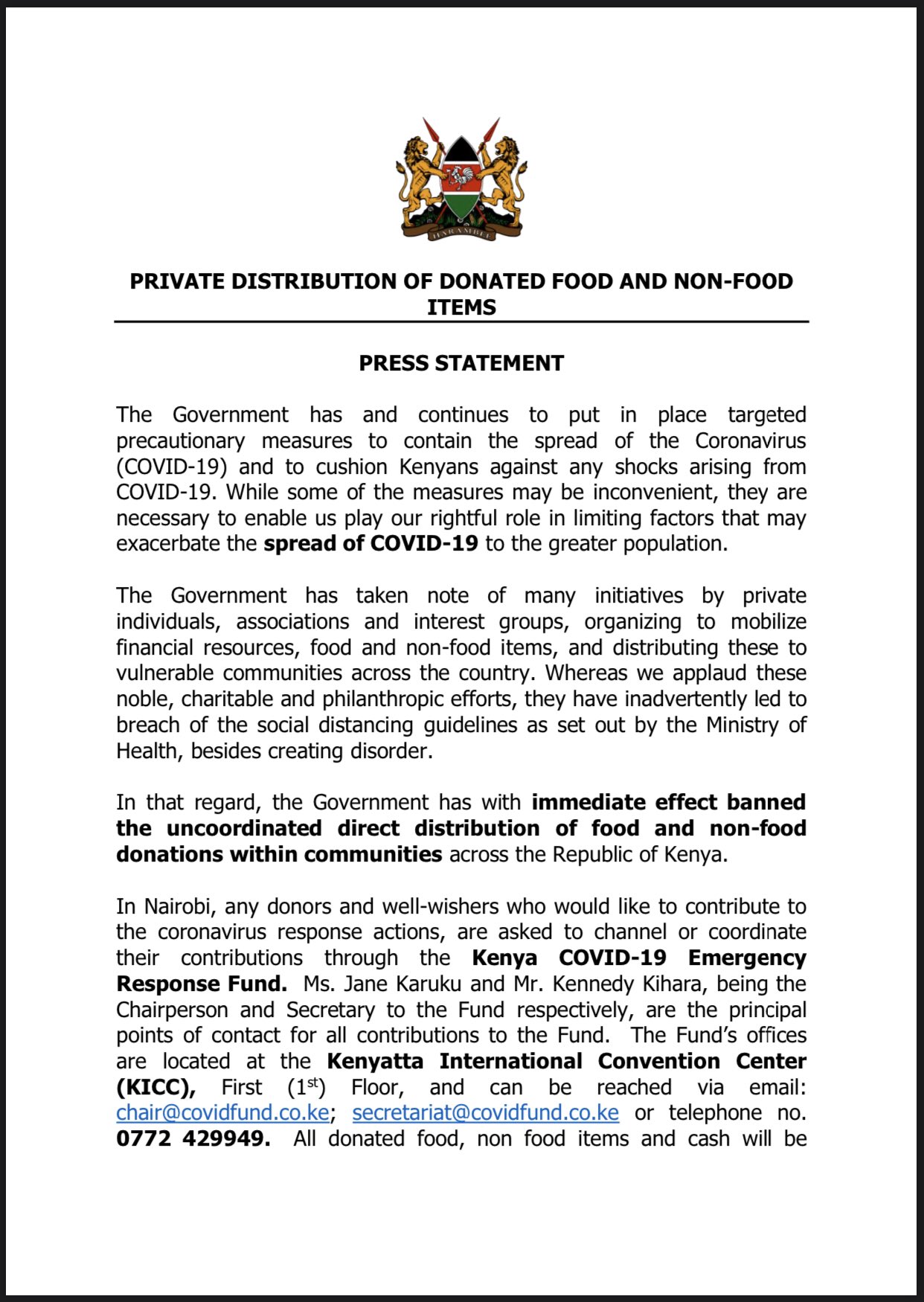 Another statement from the Covid-19 Emergency Response Fund reiterated the stance by the Interior Ministry raising questions among those who would want to support Kenyans in need independently.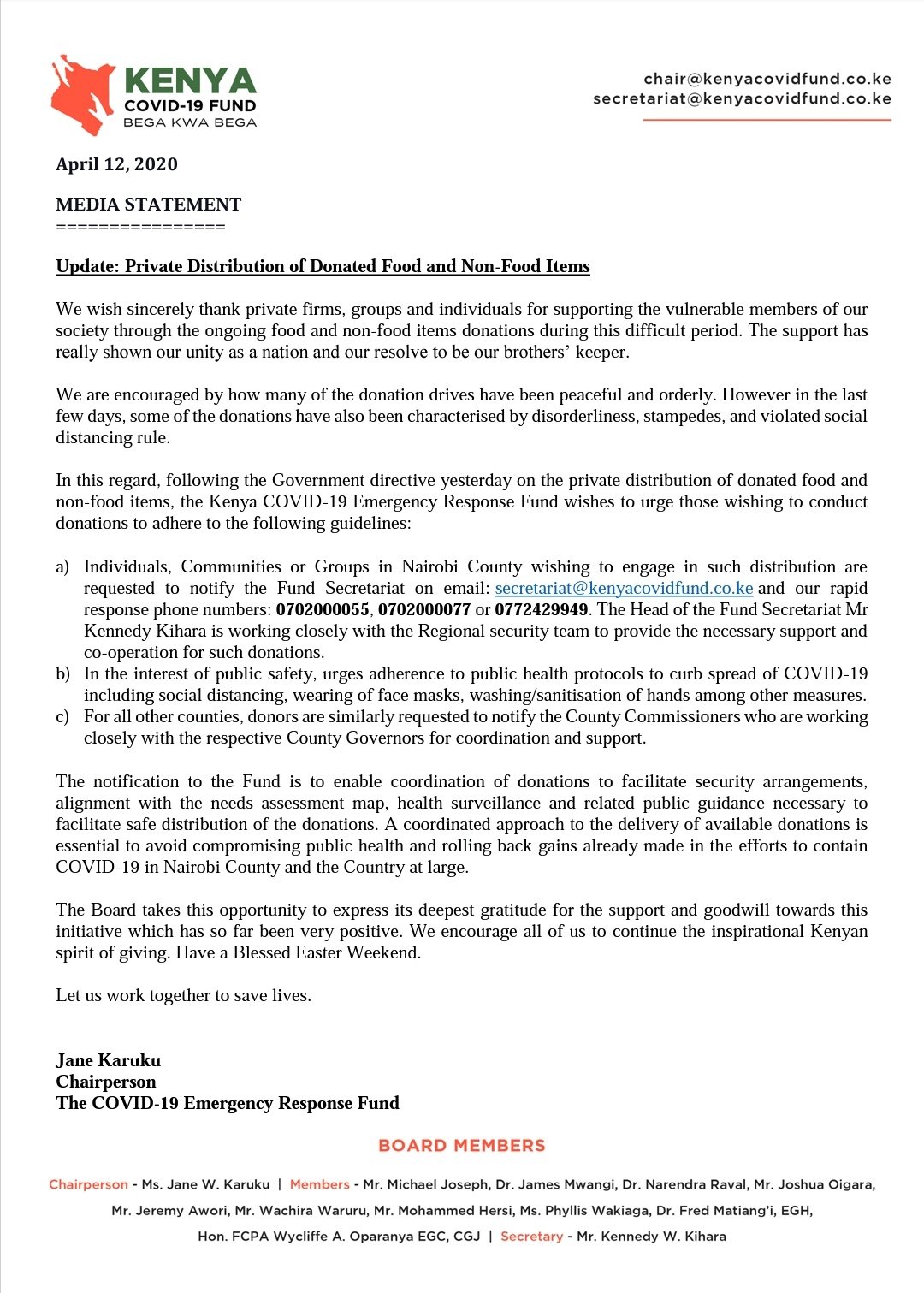 While the move by the government could be well-intentioned, it is likely that Kenyans are fatigued by the high handedness of the government preferring, instead, to withhold their alms rather than give to the government to distribute.
Last week, a distribution exercise went awry resulting in injuries after a stampede in rush for the rations donated by Orange Democratic Party (ODM) leader Raila Odinga.
Activist Jerotich Seii has questioned what the Emergency Fund has accomplished so far with billions at its disposal. She says that the fund can, as a sign of transparency, create a daily ticker tape showing exactly how much the fund has in its coffers and their sources and secondly, a portal Kenyans can log on to and see details of expenditure.
There are also questions on the legality of the Fund since the appointment could have been unprocedural.
As it is, Kenyans are at a point where they have given up on the government and have chosen to make do with the meagre resources they can scrape together.
For a long time, Kenyans feel let down and left alone to their own devices while the government continues with talk and no action.
Currently, Kenyans in China are suffering the vagaries of racism and the government remains mute apart from a lethargic statement issued by the Ministry of Foreign Affairs regarding the issue which is dire.
Continued failure and incompetence seems to be the order of the day since our fellow Kenyans were left to suffer in China in isolation as the COVID-19 forced people into lockdowns. While many nations repatriated their citizens, Kenya remained adamant that it would not bring its people home in a time when they need the comfort and warmth of home the most.
Mr President, you have let Kenyans down big time and while some challenges call for a concerted effort to address, it seems your government is immune to the pleas and needs of Kenyans.
If there was a time Kenya would have needed decisiveness, it would be now.
Mr. President, any Kenyan sleeping hungry now is a blot on your legacy. Any Kenyan who is confined to a hospital because of an infection they contracted local, it is a blot on your legacy. Any Kenyan who failed to come home when planes were still landing bringing hordes of foreigners is a blot on what you could say was your legacy.
Mr President, Kenyans have rallied behind you throughout your first term and you could tell of the support and harmony in the country then. However, with the turn of events after the handshake, you have left us to commandeer the ship which needs only one captain. We are lost at sea and we do not know how to get home.
Mr. President, threats and cajoling won't work. Being sympathetic and putting on the shoes of Kenyans is what will.
Ask your people to stop threatening and maiming Kenyans a majority of whom have no passports and who just happen to be collateral in this fight against a virus that could have been kept outside our borders with timely action.
Mr President, you have less than 24 months in office and your legacy will be determined by how human Kenyans are made to feel. It is time to make it count.