Rome's founder, the myth goes, was salvaged by a she wolf that nurtured him, protecting the first king of one of the greatest cities in the world from imminent death.
It is that rare ability of women to be compassionate and nurturing amid nature's chaos that lends a difference to their style of management compared to their male counterparts.
For long, Kenya's banking institutions had little or no women at all  in the higher echelons of management. But with changing times, they have managed to break the proverbial glass ceiling.
Pamela Mutembei is one such woman, ranking as a senior manager at Credit Bank.
As Head of Business and Marketing, she stands alongside Credit Bank Chief Executive Betty Korir and Azmina Mulji, the Head of Human Resources and Administration, in the top management of a female-led lender.
Pam, however, dismisses the notion that there are glass ceilings that need to be broken for women to climb the corporate ladder.
"There are no ceilings. I don't call them ceilings, perhaps challenges," she offers.
With 15 years in the banking industry, she says an attitude of not waiting for things to be done is what has propelled her along her journey.
"I don't wait for things to happen."

– Pam Mutembei, Credit Bank Head of Business and Marketing
Having been in banking "all my life", Pam's journey to being a banking head first started at Commercial Bank of Africa (CBA) where as a teller, she found her work mundane.  "I told my boss I can't count money."
An opportunity opened up when speaking to one of the clients at the bank, who was also a boss at another lender, Chase Bank. Grabbing the opportunity with a go-getter attitude, she asked the client to give her a job but on condition that it did not involve counting cash.
[Read: At Tala, the queen of digital loans steps up]
That is how she landed at Chase Bank, which she absolutely loved because of the experience it offered her. "That is where I learnt all my banking. Every year, I had a different role and through that I rose through the ranks."
When she joined Credit Bank 10 years ago, the lender had four branches, mainly serving the large corporations and upscale businesspeople. Now it has 17 branches across the country – the latest being the KVDA Plaza branch in Eldoret – and is a pioneer in launching an Entrepreneurship Hub (E-Hub).
Her part in the bank's growth? "I have started and founded departments. I've also done strategic partnerships to enable us support entrepreneurs and SMES."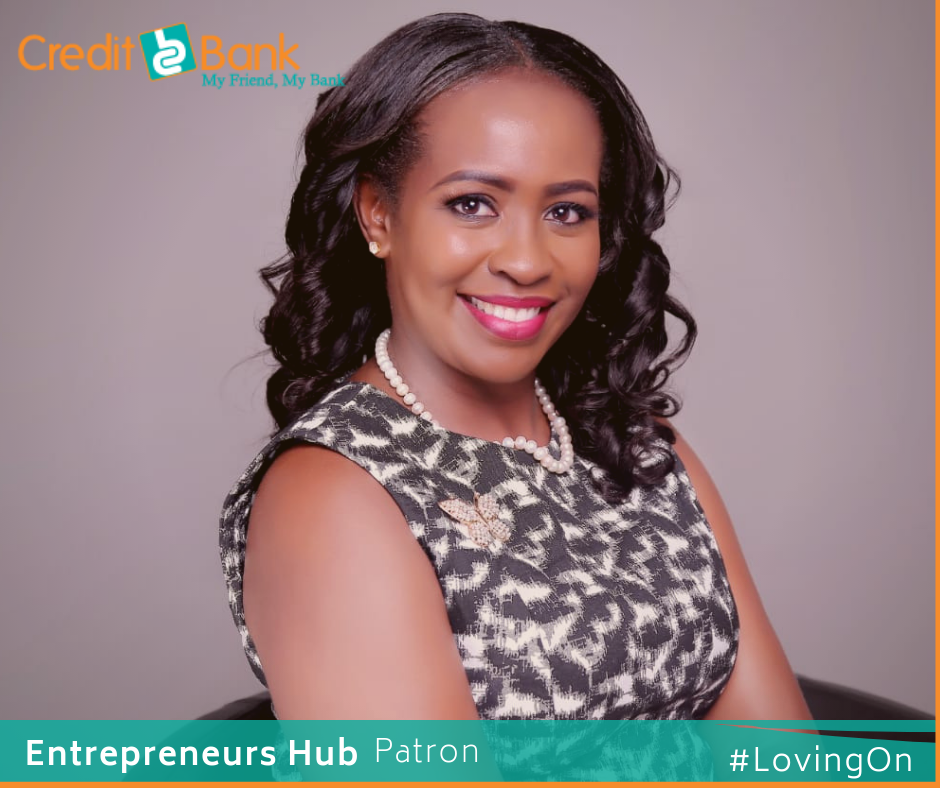 Pam, as she prefers to be called, is also the founder and patron of the E-Hub, which in two years has taken on board over 500 SMEs through training.
"Our objective is that we scale up SMEs to employ at the minimum 30 employees."
The platform carries with it a pay it forward principle so that SMEs are encouraged to influence fellow enterprises thereby leading to a ripple effect.
"My plan is that by 2020, we should have trained over 2,000 SMEs."
Women in banking
Pam turns 40 this year on May Day and says it is the most exciting thing happening in her life in 2019.
"I hear life begins at 40. I can't wait," says the woman who would have settled for interior design had she not ventured into banking. She adds that women need more support in the work environment.
"Being a female is hard. We are expected to work twice as hard. Women are judged incompetent unless they prove otherwise whereas men are judged competent until they prove they are not."
Noting unconscious bias as an immense struggle, Pam says a woman at the work place is expected to prioritise home and family affairs. "Those biases are challenged every time, especially as you try to move up the ladder."
As a solution, she suggests; "There needs to be gender inclusive supportive programmes that understand that the male journey and the female journey is different." This, according to her, influences workplace treatment requisite so as not to affect a woman's performance at the workplace.
Complimentary differences between men and women when combined, she says,  make for a better institution.
[Read: Radisson Blu boss seeks bigger bite of Kenya's hotel market]
Married to Daniel Njuguna, whom she hails as her greatest supporter, Pam also says that there is need for spousal support as women seek to climb up the ladder.
"My husband is my biggest supporter. When you're a woman at work, without a spouse support system, there's not much you can do."
Pam also adds that she has played her part in easing the plight of women because it is a challenge she can relate to. "As a senior woman in the institution, I make sure the women who work for me are not incapacitated in any way. I'm extra-supportive because I have gone through it. I understand the problems that come with being a woman in the workplace."
She also says that the notion of work life and family balance is a myth. "There's no work life and family balance. In the season you are in , something will occupy you more. It's seasonal and that is where the harmony should be."
Credit Bank – the SME Lender
In her 10 years at Credit Bank where she originally started out as a branch manager, Pam is convinced that the lender, which now focuses on SMEs, is filling a gap within the Kenyan society.
"I don't understand why any financier or anyone with the capacity wouldn't want to build SMEs in this country because there are no jobs. People are innovative, they have the passion and the drive and all they need is a bit of support."
The lender's loan book of about Ksh15 billion is almost entirely dedicated to SMEs.
Some banks, however, shy away from giving loans to SMEs because of lack of collateral, but the the Credit Bank Business Head thinks this should not necessarily be the case.
"I think it is time Kenya moved away from collateral based lending, because there are other ways of lending which do not incapacitate the business."
"The end goal is to see that the SME has a sustainable business that is working and creates impact in the economy."
[Read: Credit Bank eyes SMEs, farmers with new Eldoret branch]
The bank, according to Pam, is "key on innovation" and will launch a mobile lending platform in May.
A Game of Thrones fan, Pam, however, also advises that SMEs in Kenya should focus on what they are passionate about if they want to succeed.
"Kenyans have a peculiar habit of diversifying into too many businesses at the same time. If you're truly passionate about something, concentrate on it."
"By the time someone has three or more successful businesses, they've built them over time. So one business can support another."
Life beyond earth?
While not being a fan of autobiographies, Pam, who prefers "serious fiction", says that there has to be life somewhere out there in the universe.
"We cannot possibly be alone in this world. The universe is so big and we haven't even began to scratch the surface."
Pam refers to her daughter as "absolutely precious, my everything, my world, my reason why."
Named Alexandria, synonymous with queens and the city in Egypt built by Alexander the Great, Pam says of her daughter: "I have big dreams for her. Her world is limitless."
She also says that if she was to have the opportunity to share a meal with anyone in the world, it would have to be Oprah Winfrey.
"I'd like to ask her why she'd never wanted to have children. Because with all that goodness and genetics that is in her, she should have reproduced."
[See Also: Banks leverage on mobile apps to offer insurance, stocks services]