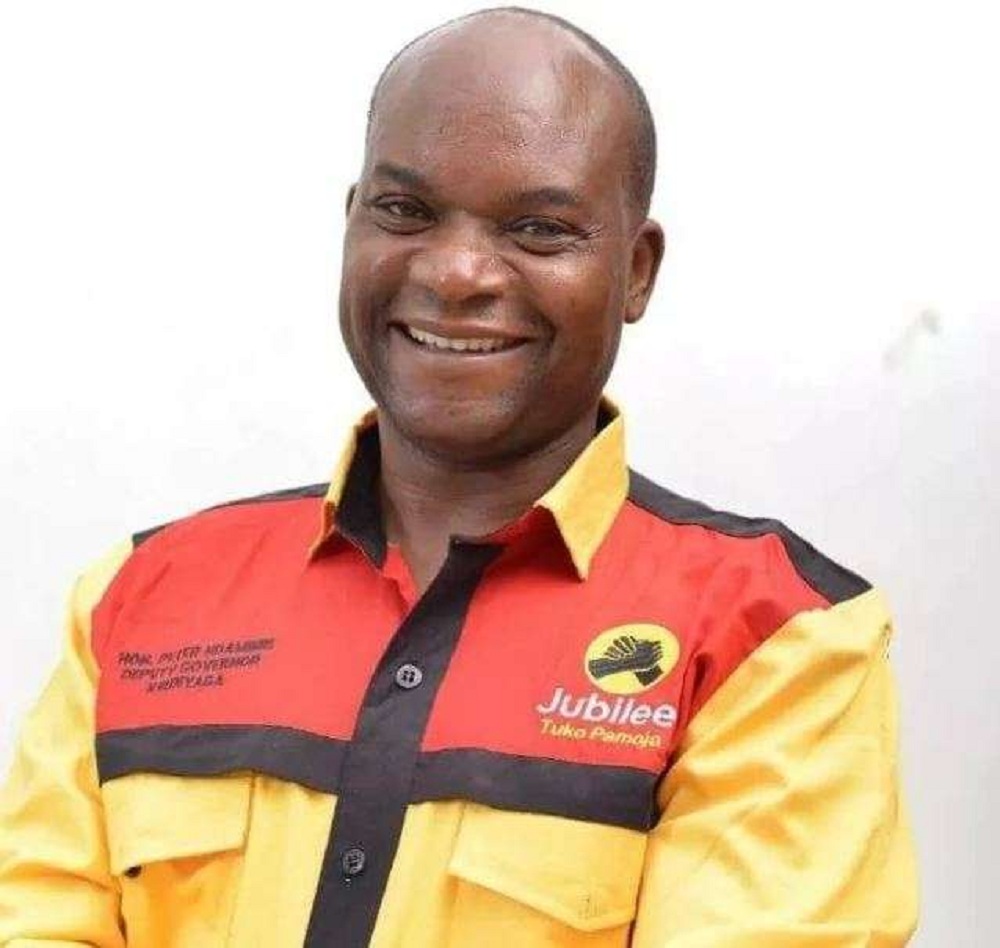 Kirinyaga Deputy Governor Peter Ndambiri has now allegedly admitted that he was involved in an extramarital tryst after a video emerged online showing him in a compromising situation with a woman.
In the video, which he has disowned and termed as the work of his enemies, the deputy governor is severally assaulted by people who stormed into lodging they were staying in led by the woman's purported husband. It is not yet clear
The video has generated heat on social media with many backing Ndambiri while others made jokes about the whole saga. Others averred he had brought the disgrace upon himself.
In a statement circulating on social media, which indicates it was issued in Kakamega where the Annual Devolution Conference is taking place, Ndambiri apologised to his wife and children for letting them down and bringing ridicule upon them, terming the i******t the result of an "amalgamation of my selfishness, pride, greed, and ego."
Kenyans on social media say the i******t was a set-up to extort from the governor and that he was exposed after he went back on an agreement to pay Ksh 500,000 per month to the gang. The woman in question is said to be a known extortionist who particularly targets prominent people from Central Kenya.
However, critics insisted Ndambiri takes responsibility whether it was a set up or not while others asked the authorities to take action on those behind the video.
Here is Ndambiri purported statement in full:
"The events of the last few days are the least of what I expected would be trending in Kenya, but with technology anything is possible. An amalgamation of my selfishness, pride, greed, and ego have caused an untold embarrassment and shame to so many people. I am terribly sorry.
The first thing I did after waking up this morning was to pray to the almighty God to give me the wisdom to own up to my mistakes and misdeeds. What I have now is a broken and contrite spirit. I have apologized to my wife of many years who has always been my solid rock. I have denigrated her womanhood and made her the laughing stock of many. I have sought her forgiveness and I will work hard to earn back her trust. I have let my children down. They have always looked up to me for inspiration and direction . I have caused them untold embarrassment and a***y. I am sorry.
A famed philosopher once said that guilt, just like salvation, is individual. This is my cross and I beseech my supporters to allow me the latitude to carry it as it should be. This is not the time to engage in acts of mudslinging or concocting conspiracy theories. I made a mistake. I want to right that wrong in a way that heals all the hurt caused. All that I need from you is to pray for me; that God strengthens my resolve to be a better man, husband, father; to be an effective deputy governor and to inspire the youth.
There is more to be done to make Kirinyaga the envy of other counties. The winds from our forefathers are blowing toward Kirinyaga. I admit, my actions have watered down your faith in me. Forgive me. I will endeavor to give unwavering support to Governor Ann Waiguru as we work to keep the promises we made in our manifesto.
Let us make Kirinyaga great again and focus on the President's Big Four Legacy agenda.
Thank you."
Business Today is yet to verify the authenticity of this statement with some quarters indicating it could be fake news.
The Kenya Police Service was also earlier roped into the anti-Ndambiri plot with a fake statement saying they were investigating the video and a*****t of the governor. They have denied this.
"Police have not received any report concerning an alleged a*****t of the Deputy Governor of Kirinyaga County,in Kakamega. Equally the Police Spokesperson has not issued any statement concerning the same. The video and the statement circulating in sections of the social Media on the same issue is strange to the police. Investigations are underway to a****t the author and present him/her before court," the service tweeted.