The Kenya Revenue Authority (KRA) has gone after President Uhuru Kenyatta's media company which it s******s of evading taxes.
The tax authority already launched investigations into the company's payroll over discrepancies in its Pay As You Earn (PAYE) filings affecting 70 employees.
In a letter to Mediamax Networks Ltd Managing Director, KRA says it is reviewing Mediamax Networks PAYE self-assessments returns for the periods October 2019 to December 2019 and March 2020 to May 2020.
To facilitate the audit and investigations, KRA Commissioner C. O. Wagunda has dispatched tax officers to comb through related documents for verification after discrepancies emerged between what employees file and what the company pays the taxman.
The documents being checked by KRA include payroll of the company for the period, employee movement schedule (hiring and redundancies), PAYE payments as per the PAYE ledger and the form 10 for the period, contract letters of 70 employees as well as cashbook and ledgers.
"Our Officers Sammy Kisotu and Abdi Guyo will be visiting your business premise starting 17th June 2020 from 9.00 am to carry out verification of the said documents," Wagunda says in the letter dated 15th June 2020. "This request is made pursuant to provisions of Section 59 Tax Procedures Act 2015," says Wagunda in the letter.
It is suspected money deducted from employees' severance pay was not remitted. The company has over the past year fired nearly 200 employees.
Bold move?
This appears to be a very bold move by the taxman. By going after President Kenyatta's company, the taxman will be seen as having no sacred cows considering that the government is running against time to plug deficits in excess of Ksh800 billion in the budget for the next financial year.
However, the more realistic argument would be that the latest development is a plot to force out Acting Chief Executive Ken Ngaruiya who has courted the wrath of employees with controversial management decisions that have cast the company in negative light.
Taxes
KRA is reporting discrepancies between what 70 employees have been filing as returns and what the company has been paying. The numbers are not tallying.
The taxman's quest to find answers as to who is not rendering unto Caesar what belongs to Caesar ropes in a list of 70 employees, among them current and former staffers including six-figure earning media personalities. Former K24 presenter Betty Kyalo and Former Mediamax Editor in Chief Peter Opondo whose names appear in the list.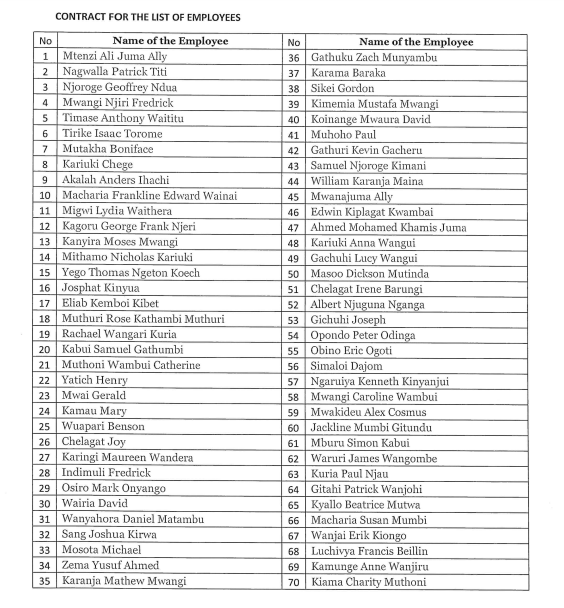 Mediamax has sacked at least 200 employees in the last year as the company continues to struggle to rake in revenue. In October 2019, 160 employees were sacked including 10 editors some whose names now appear in this list.
They include Former K24 Managing Editor Fred Njiiri, Managing Editor for Swahili and Chief Anchor Frankline Wambugu, Former English Managing Editor Boniface Mutakha, and Deputy Managing Editor Ali Mtenzi.
Also in the list are former K24 Business Editor Tony Timase and Sports Editor Torome Tirike.
Interestingly Ngaruiya's name is also in the list.
Troubled Mediamax
Earlier this year, President Kenyatta drove himself to DSM Place, the Mediamax headquarters to attend a board meeting after becoming concerned that the events at Mediamax were tainting his political and family's images.
One week ago, the Employment and Labour Relations Court ordered the company to pay its employees their April and May salaries in full after 160 staffers moved to court protesting the management's plans to slash their salaries by 50%.
Meanwhile, the company is preparing to retrench more employees after conceding that it is unable to sustain them going by its current precarious financial position.