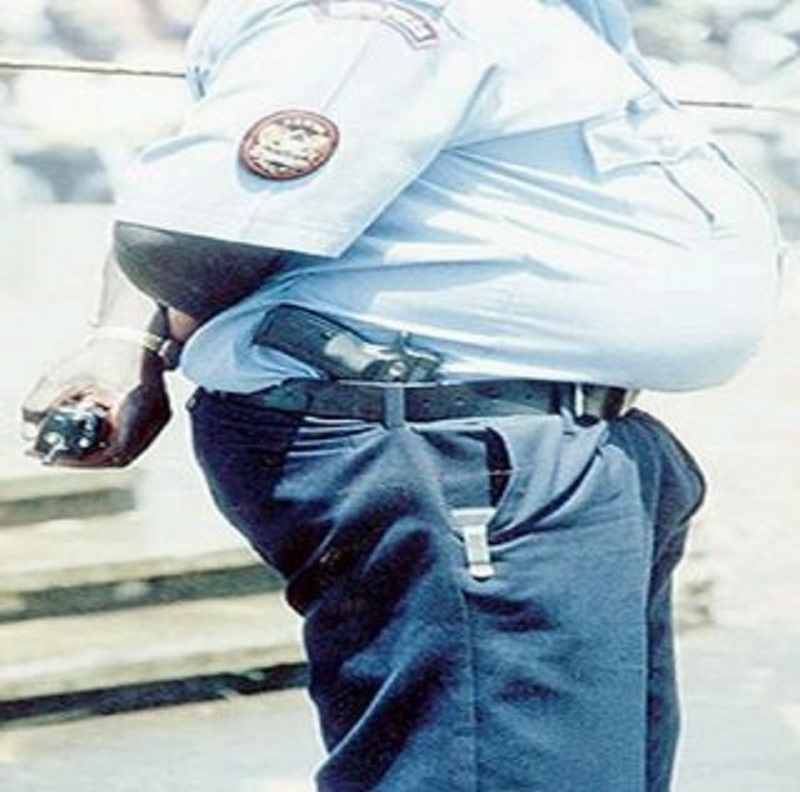 Drama unfolded along the Thika-Garrisa road Friday after a female security guard taking selfies was roughed up by traffic police officers for fear that she had captured them taking bribes.
According to eye witnesses who watched the drama unfold, Ms Mercy Muthoka, who is a security guard manning the Nampak Packaging Company gates, was taking selfies from the gate when two traffic officers pounced on her accusing her of taking pictures of them at work.
On sensing that she was going to be arrested or badly injured the lady took off screaming with one of the officers in hot pursuit with the intention of grabbing the phone from her.
She consequently fell into a ditch and seriously injured her right foot but some boda boda operators who were watching the drama from a distance and on realizing that the woman had been injured seized the traffic police officer and beat him senseless.
The male traffic officer's lady counterpart sensed danger and called for reinforcements that came and dispersed the irate boda boda operators who were baying for the traffic police officers blood and demanding for action to be taken against the officers who had injured the innocent lady.
Contacted for comment, Thika OCPD Willy Simba confirmed the incident saying that both the traffic police officer and the lady security guard are admitted at Thika Level 5 Hospital where they are getting treatment.
Simba condemned the "unfortunate" incident adding that police have opened a public inquiry to ascertain what really happened during the day light drama.
"Nobody is allowed to take the law into their own hands and both the traffic police officers and the bodaboda operators were on the wrong for resorting to instant justice and are therefore being investigated", he said.
Speaking from the hospital where she was waiting for her x-ray report, Ms Muthoka told KNA that she was actually taking some selfies of herself in her new uniform when the traffic officers confronted her and accused her of having taken pictures of them receiving bribes from matatus plying the busy road.
READ: TUSKYS' SMART MACHINES TO COLLECT SH100 MILLION DAILY 
"They demanded that I hand over my mobile phone which I refused prompting the male traffic officer to slap me heavily on the face, I realized they were going to beat me up and even arrest me so I decided to take off screaming but they pursued me, I thank God that they were not armed, they would actually have shot me dead" Lamented Mercy.
She demanded justice and called on the Inspector General to discipline the two police officers.