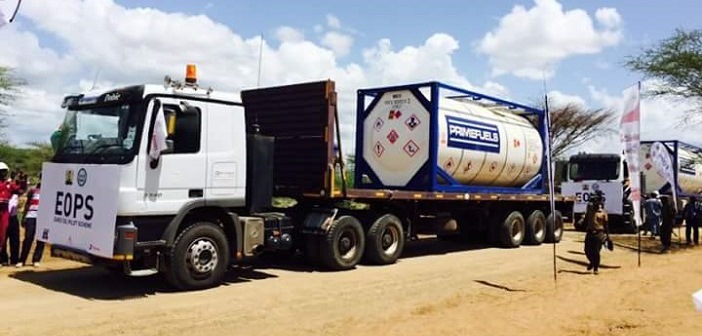 Oil Operations in Turkana is set to resume next week after issues that had paralyzed the operation for the last 45 days have been resolved. The Cabinet Secretary for Ministry of Petroleum and Mining John Munyes said that the resumption of the operation comes in the wake of extensive consultations between the national government, Tullow Kenya and the Turkana community.
"After consultations, Tullow Kenya will resume operation of the ongoing oil and gas development and specifically the Early Oil Pilot Scheme (EOPS)," said the CS in a press briefing today in his office.
Transportation of the oil between the community and Tullow Kenya which had also been affected will resume next week on August 22 as well. The residents paralyzed the Oil operations demanding beefing up of security on the Turkana-Baringo border citing livestock theft.
READ: FORMER NATION MEDIA CEO LANDS TOP JOB AT CEMENT FIRM
They were also demanding recovery of stolen livestock, share of oil jobs and tenders. Munyes said the community's demand had been made adding that to foster a harmonious, sustainable, stable and secure operating environment with regards to the petroleum operation in Turkana, they resolved to establish a framework that provides the community as well as the contractor with avenues for addressing emerging issues and concerns.
"We have also formed Turkana Grievances Management Committee, (TGMC) comprising of Turkana community leaders, government representatives, Turkana political leaders, Tullow Kenya and faith based leaders to oversee resumption of Oil operations and amicably resolve emerging issues now and in future," said Munyes.
SEE ALSO: KENYAN TOWNS WITH BEST RETURNS FROM REAL ESTATE
He further said an Inter-Ministerial Committee on Escalation and Support has also been formed for referral of unresolved issues from TGMC that needed directive from national level. He added that his ministry will set up a liaison office in Turkana County as part of its commitment to continuous engagement with the community.
"My ministry is committed to ensure that Kenyans Oil resource delivers real and tangible benefits to the country. As leaders, we have a responsibility to ensure that the resource becomes a blessing not only to us today, but also for future generations," he said.