Following a government directive suspending all mass gatherings on Friday last week, churches are taking cue to comply.
A number of churches have suspended communal services as the coronavirus pandemic takes a toll and as the country seeks to contain the spread.
Already, government functions for essential services in public agencies have also been scaled down in courts, immigration, police stations and land registries.
The Presbyterian Church of East Africa (PCEA) has suspended all Sunday services but individuals can access the church premises for private prayers.
In sync with the times, the church has asked the government to provide necessary utilities such as water and electricity without charges.
The church is also asking the government to consider suspending all loan repayments and interests through financial institutions in addition to lifting taxation on essential commodities such as food.
Nairobi Chapel has also announced the suspension of all church services until further notice as per the announcement below.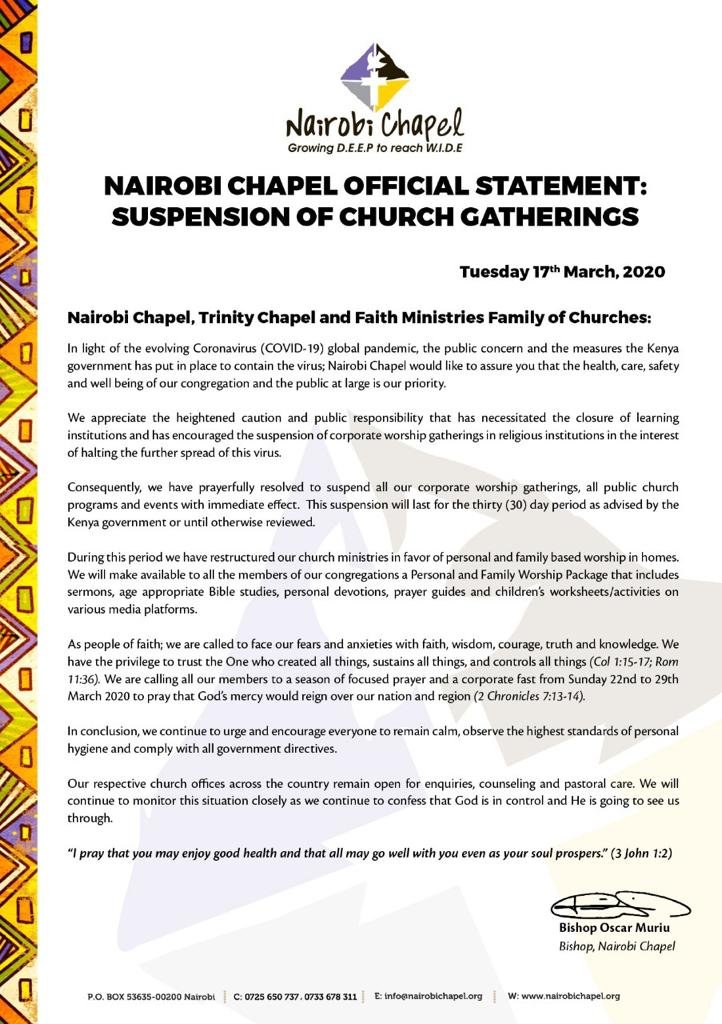 All Saints Cathedral has also suspended all services and meetings at the premises from today (Wednesday, March 18, 2020).
The church will, however, remain open for individual prayers and those with weddings have been advised to reschedule in the next four weeks or cancel them.
In case weddings will be conducted at the church, not more than 10 people will attend the ceremony which will last for at most 30 minutes.
Notably, the Senate and parliament have also adjourned for a month.