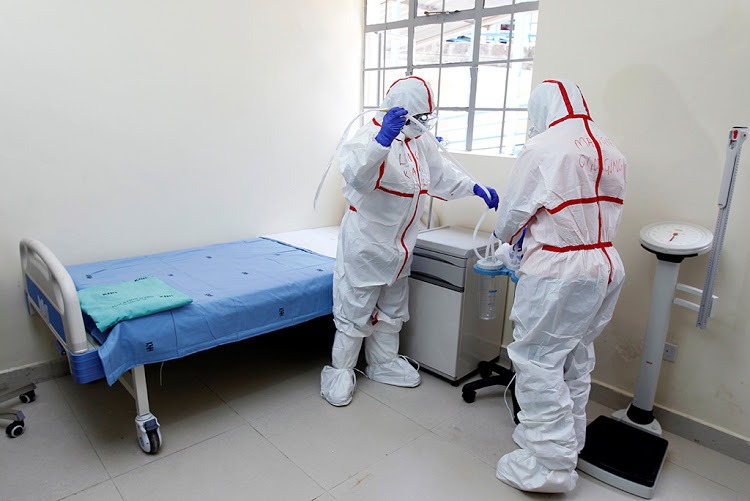 Kenya's Emergency Response to COVID-19 is off to a bad start after nurses at Mbagathi Hospital staged a go-slow on Monday a day after two more cases of coronavirus were reported in Kenya.
Mbagathi Hospital Chairman George Osewe told journalists that the nurses feel neglected and thrown at the deep end without proper training and adequate preparation to handle infected persons.
The nurses also feel that they have not been adequately facilitated to protect their families once they cover their shifts and go back home in the evening.
"Personal responsibility is very important and it is good they have come out and demonstrated their grievances by the go slow. They are also humans and cannot be exposed to the danger of contracting the virus," said Osewe.
According to Osewe, the government only trained a handful of nurses who are now working at the COVID-19 Isolation Unit at the hospital leaving majority of the nurses out of the equation.
"I believe the government should move in and handle the situation because they are the policymakers. You cannot just train a few nurses and overlook the rest just because they are not attached to the isolated block," he added.
This is in start contrast to what Health Cabinet Secretary Mutahi Kagwe has assured Kenyans. When announcing that the World Bank had promised Kenya instant access to a Coronavirus response kitty last week, Kagwe assured the public that the nurses had undergone sufficient training in Naivasha and were well equipped to deal with the virus both in terms of human resource and equipment.
County Executive Comitee Member (CEC) for Health,Nairobi County Hitan Majevdia has also urged the national government to move with speed to contain the situation before it gets out of hand.
"The ball is in their court. But as a County we have the protective Personal Protective Equipment and by all means we shall ensure that our county facilities have them," he said
Recently, the national government took over the health functions of Nairobi County and its preparedness for a crisis of this magnitude will be tested to the limits.