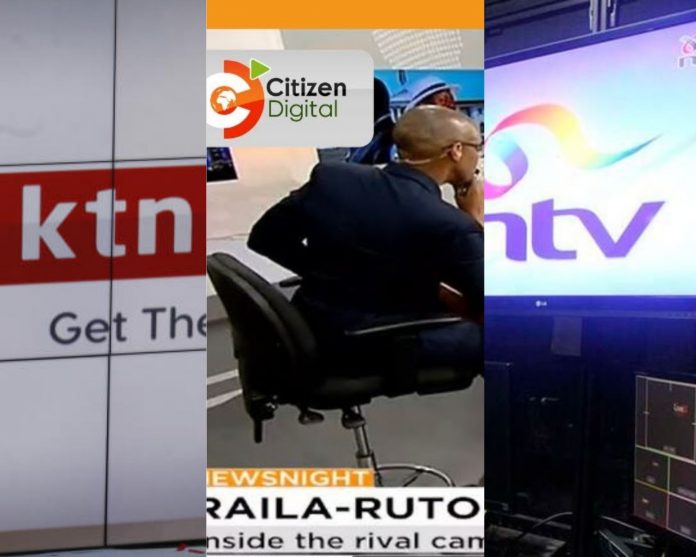 Kenya's biggest media houses are going all out in a battle for eyeballs and ad billions in 2022, thanks to the upcoming General Election driving up ad spend and ratings.
A key battlefront is competition for the best talent in broadcast, print and digital as each firm looks to provide the best coverage of politics' silly season. Everyone is also introducing new analysis, news and debate shows focused on politics.
The International School of Advertising (ISA) had projected increased ad spend across TV, radio, print and digital going into the elections. Ad spend has been on the rise since the first half of 2021 when marked recovery from the impact of Covid-19 was witnessed.
Corporates aren't the only ones getting in on the action. Politicians are lining up to advertise on mainstream media. Nation Media Group (NMG) has introduced a new print series eyeing political aspirants in need of marketing, for example, while the Raila Odinga campaign has been running regular ads on Kenya's most watched station – Citizen TV and other Royal Media Services (RMS) platforms.
For perspective, ad spend in H1 2021 rose 15% compared to the same period the previous year – and it is only expected  to continue rising. TV got the lion's share, Ksh35.1 billion, while radio got  Ksh23 billion. Advertising expenditure for OOH (Out of Home) and print stood at Ksh1.7 billion and Ksh0.4 billion respectively for the same period.
OOH ad-spend, which includes billboards, is expected to skyrocket in 2022.
Another interesting trend is the increased focus on digital compared to past elections. Media firms have been investing more in digital talent, data visualization and video and audio content tailored for social media.
2022 marks the first election cycle where Kenya's 2 largest print platforms, The Nation and The Standard, will have their election coverage tucked behind paywalls on their websites. Both platforms have in the past few years looked to boost reader revenue by adapting to global trends in the publishing industry relating to subscription-based services.
Even The Star owned by Radio Africa Group (RAG), the third most-distributed daily newspaper, has been undertaking similar plans.
Speaking after the appointment of Francis Mureithi as Digital Editor in October last year, the Group's Head of Content Paul Ilado stated: "Apart from increasing our digital numbers, Mureithi will look to create new products, especially audio-visual content, in order to double our digital revenue in the next one year as we move towards a paywall."
Mureithi replaced Oliver Mathenge, who Radio Africa credited with growing the digital section of the business. Mathenge moved to NMG where he is the Multimedia Editor at NTV.
Digital-native news platforms like Business Today have plugged the gap for Kenyans searching for news but unable to pay for subscriptions. Uptake of subscriptions has, however, also been growing – Nation hit 50,000 subscribers in April 2021, three months after the introduction of a metered paywall on their flagship website.
It has also been 'transfer season'  in broadcast as firms look to expand their audiences and improve their newsgathering capabilities. Joe Ageyo, barely a week after he left Citizen TV, was put in charge of broadcasting at the Nation Media Group.
NMG has also appointed Monicah Waceke Ndung'u to the new position of Executive Director – Transformation with effect from 1st April, 2022. Monicah will provide leadership to the various cross functional teams executing the firm's transformation  plans, an internal memo stated. "She will also participate in specific work streams to accelerate NMG's journey to a modern digital content company."