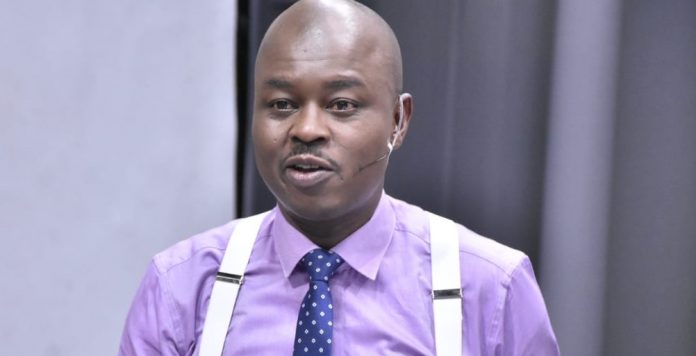 Joe Ageyo, who left Citizen TV only last week, has been put in charge of broadcasting at the Nation Media Group – and he will be overseen by two bosses. In an internal memo released today, Nation Media Group CEO Stephen Gitagama announced the appointment of Joseph Ageyo as Editorial Director for Broadcasting, effective 1st April 2022.
As Editorial Director Broadcasting, a newly created position, Mr Gitagama says Ageyo will be an integral part of the leadership team and will participate in the development and exécution of the Group's editorial strategy. "Joe Will be in charge of the editorial functions of NMG's broadcast operations in Kenya across multimedia platforms. He will report directly to the editor-in-chief with a dotted reporting relationship to the Executive Director – Transformation," the Memo says.
Prior to this appointment, Joe was the Editorial Director at Royal Media Services. He previously worked at KTN as Managing Editor, and at NTV as Head of News Production. He returns at NMG at a time when the business segment is struggling to find a footing the highly competitive TV and radio industries.
NMG's dalliance in broadcasting has never blossomed. In 2016, the company, frustrated at slow growth in its radio and new TV station, shut down Nation FM, QFM and QTV. While it has relaunched Nation FM, the radio station has yet to make a significant impact in a market dominated by Radio Citizen, Classic FM, Milele FM and Radio Jambo.
See Also >> KRA Error That Raised Keroche Tax Bill To Sh9 Billion
Even the TV side hasn't been so lucky. For years NTV appears to mark-time behind market leaders Citizen TV followed by KTN and KTN News – both in viewership and adspend. This makes Ageyo's work clearly cut out and his position – while donning the new title of editorial director – remains a hot seat with arguably the highest turnover in the NMG stable. He will take on Linus Kaikai, his former colleague and junior at Royal Media Services, in the battle for eyeballs and advertising.
Joe holds an MSc in Environmental Governance from the University of Manchester, post Graduate Diploma in Mass Communication, from the School of Journalism, University of Nairobi and Bachelor of Agribusiness Management, from Egerton university. He also holds certificates in Sustainability Management and Environment Diplomacy from the University of Tilburg, Netherlands and the University of Geneva, respectively.
Meanwhile, NMG has also appointed Monicah Waceke Ndung'u to the new position of Executive Director – Transformation with effect from 1st April, 2022. Monicah will steer the overall design and direction of transformation and provide leadership to the various cross functional teams executing the plans, the CEO says in an internal memo. "She will also participate in specific work streams to accelerate NMG's journey to a modern digital content company."
Read >> In Battle For Talent, Small Media Players To Feel More Pain
He said she will continue managing NMG's broadcast business in Kenya and will report to the Group CEO. Monicah joined NMG in February 2020 as Head of Broadcasting. Prior to joining NMG, she was the General Manager for Kwese TV Kenya Limited. She also previously worked at Kenya Broadcasting Corporation and Uganda Broadcasting Corporation.
Monicah is a member of The International Academy of Television and Arts (Emmys), a Chevening scholar, a holder of MA degree in Communication from University of Westminster (I-JK) and Bachelor of Arts in Communication (Electronic Media), Daystar University.