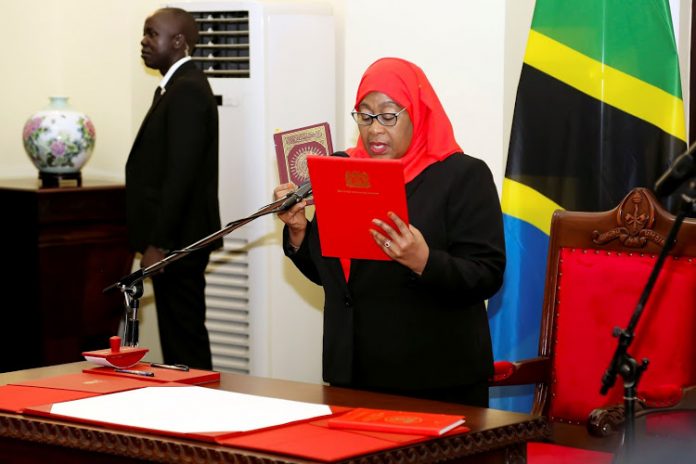 Tanzania's Vice President Samia Suluhu Hassan on Friday 19th 2021 was sworn in as Tanzania's first female president after the sudden death of John Pombe Magufuli. She comes in as the 10th female President in Africa.
According to Tanzania's constitution, the new president will serve out the remainder. Magufuli, who was first elected in 2015, secured a second five-year term in polls in October last year.
The constitution also states that after consultation with their party, the new president will propose a deputy. The choice is to be confirmed by the votes of no fewer than 50 per cent of the National Assembly.
In her first public address as president, the 61-year-old Suluhu announced 21 days of mourning for Magufuli and public holidays on March 22 and on March 25, the day the late president will be buried.
"It's not a good day for me to talk to you because I have a wound in my heart. Today I have taken an oath different from the rest that I have taken in my career. Those were taken in happiness. Today I took the highest oath of office in mourning," she said, after being sworn in.
READ >> Samia Suluhu: Tanzania's First Female President
Samia said that this is the time for Tanzania to stand together and get connected, bury their differences, show love to one another and look forward with confidence. "It is not the time to point fingers at each other but to hold hands and move forward to build the new Tanzania that President Magufuli aspired to," she said.
Samia Suluhu was born in the sultanate of Zanzibar. After her education in 1977 she was employed by the Ministry of Planning and Development as a clerk. Suluhu graduated from the institute of development management with an advanced Diploma in Public Administration and got employed on a project was funded by the World Food Program.
Between 1992 and 1994, she attended the University of Manchester and graduated with a postgraduate diploma in economics. Samia's political career began in 2000. She was elected as a special seat member to the Zanzibar House of Representatives and was appointed a minister by President Amani Karume.
She was the only high-ranking woman minister in the cabinet and was "looked down on" by her male colleagues because of her gender. Samia was re-elected in 2005 and was re-appointed as a minister in another portfolio.
In July 2015, CCM's presidential nominee John Magufuli chose her as his running mate for the 2015 election, making her the first female running mate in the party's history. She subsequently became the first female vice-president in the history of the country upon Magufuli's victory in the election.
Suluhu is married to Hafidh Ameir, a retired agriculture officer, and together they have three sons and a daughter. Their daughter Mwanu Hafidh Ameir is a member of the Zanzibar House of Representatives.
READ >> Tanzania's Bulldozer President John Magufuli Is Dead