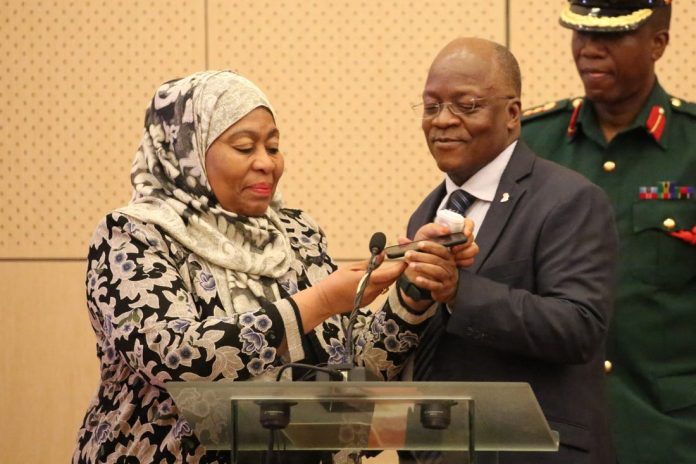 Tanzania's Vice President Samia Suluhu Hassan is expected to take over the country's leadership as the first female president following the death of President John Magufuli. According to the Tanzanian Constitution; "Where the office of President becomes vacant by reason of death, then the Vice-President shall be sworn in and become the President for the unexpired period of the term of five years."
Samia Suluhu was born in the sultanate of Zanzibar. After her education in 1977 she was employed by the Ministry of Planning and Development as a clerk. Samia graduated from the institute of development management with an advanced Diploma in Public Administration and got employed on a project was funded by the World Food Program.
Between 1992 and 1994, she attended the University of Manchester and graduated with a postgraduate diploma in economics. Samia's political career began in 2000. She was elected as a special seat member to the Zanzibar House of Representatives and was appointed a minister by President Amani Karume.
She was the only high-ranking woman minister in the cabinet and was "looked down on" by her male colleagues because of her gender. Samia was re-elected in 2005 and was re-appointed as a minister in another portfolio.
In 2010, she sought election to the National Assembly, standing in the parliamentary constituency of Makunduchi and winning by more than 80%.
President Jakaya Kikwete appointed her as the Minister of State for Union Affairs and In 2014, she was elected as the Vice Chairperson of the Constituent Assembly tasked with drafting the country's new constitution.
In July 2015, CCM's presidential nominee John Magufuli chose her as his running mate for the 2015 election,making her the first female running mate in the party's history. She subsequently became the first female vice-president in the history of the country upon Magufuli's victory in the election.
Suluhu is married to Hafidh Ameir, a retired agriculture officer, and together they have three sons and a daughter. Their daughter Mwanu Hafidh Ameir is a member of the Zanzibar House of Representatives.