State House has blocked former NTV general manager Linus Kaikai's move to Royal Media Services where he was set to replace Lands Cabinet Secretary Farida Karoney, who was the media house's Chief Operations Officer before her appointment to join President Uhuru Kenyatta's administration.
Business Today can reveal that Kaikai, who was sacked from Nation Media Group over his purported links with NASA leader Raila Odinga, had put pen to paper before his imminent arrival at Communications Centre, the RMS nerve centre Maalim Juma Road, Off Dennis Pritt Road in Nairobi was interrupted.
According to sources familiar with the goings on at the SK Macharia-owned media house, State House, which is believed to have pushed for Kaikai's sacking after he defied NMG Editor-in-Chief Tom Mshindi's edict not to livestream activities around Raila's mock inauguration on January 30, went through RMS vice chairperson Purity Gathoni Macharia to impede him from joining the company.
"State House was furious that Kaikai was getting an even more influential position in a big media house even after he took part in what was clearly a treasonable affair. But they knew SK Macharia would be difficult to convince following the shutdown of Citizen TV and Inooro TV that saw him move to court seeking compensation. So they devised a way of convincing his wife who as vice chair runs the media house's day to day affairs," the source confided in BT.
Following the media shutdown that also affected NTV and KTN News, Interior Cabinet Secretary Fred Matiang'i said action would be taken against elements, including some in the media, who worked with NASA to facilitate Raila's installation as the "People's President."
Kaikai, alongside NTV anchors Larry Madowo and Ken Mijungu, have since secured anticipatory bails for fear of being arrested by the State. The matter is set for mention on March 20.
A day before the mock swearing in, Kaikai, as chairman of the Kenya Editors Guild, had issued a hard hitting statement in which he castigated attempts by State House to gag the media after media owners and managers were summoned to the House on the Hill and presented with what Matiang'i would later call a "full prior security brief" on why they should not cover the NASA event live. The statement caught both State House and NMG managers, including Mshindi who had attended the meeting, off guard.
At the meeting, President Uhuru Kenyatta is reported to have threatened media owners that the government would revoke their operating licenses if they defied the order.
It is believed that NMG managers could have fronted Kaikai's firing as a bargaining chip when negotiating for resumption of normal operations.
According to another reliable source, RMS top brass has since settled on  Radio and TV Production Director Fred Afune as Karoney's replacement while KTN Managing Editor Joe Ageyo will be named as the Editorial Director to replace Peter Opondo, who was an editorial consultant at Communications Centre. He left the company last Friday to venture into private business.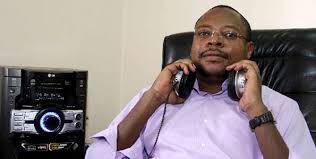 An accountant, Afune is credited with the growth of vernacular radio in the country, which is one of RMS's commercial strengths.
It has also emerged that even before the Raila swearing-in fall out, Kaikai's die had been cast as early as December last year when NMG quietly poached Alex Kobia from Al Jazeera Media Network. He has since been named as Managing Director of the NMG Broadcasting Division.
According to a golfing colleague of Kobia, who regularly visits Nation Centre, Kobia was based on the building's 4th floor and his unveiling a day after Kaikai left was all but a formality.
"I used to meet him in the lift and he would spend most of his time on 4th floor. Despite what appeared to be more than coincidences, I always thought he was visiting someone there only to realise he was already on board when the announcement came," he told BT.