Social Commerce: Access to markets remains a challenge to many MSMEs (micro, small and medium enterprises) in Kenya as they can't afford to set up, manage and market their online presence. Social commerce, the process of selling goods and services directly on social media platforms, fueled by its low barrier to entry, is poised to change this and give MSMEs access to markets by leveraging social media influencers to resell their goods and services online.
With continued rising youth population, urbanization, internet connectivity, increased access to digital and mobile payments and use of social media platforms, MSMEs in Kenya can leverage the business environment to transition and adopt social commerce for scalability.
What are the opportunities for social commerce?
Although MSMEs account for about 70% of the Kenyan economy and employ more than 60% of the population, one of the main challenges they continue to face is the lack of affordable, accessible, effective, and digital access to markets, which has created barriers for sustainability to scale and create more employment opportunities.  Without leapfrogging and fully embracing digital systems and processes, MSMEs are limited in accessing markets with varied consumers.
>> Co-operative Bank Launches e-Commerce Solution For Digital Businesses
KEPSA (Kenya Private Sector Alliance) conducted research on the adoption of the digital platforms in Kenya. Despite the significant increase in internet usage, many MSMEs have not transitioned their operations online. This is a challenge that needs solutions to enable MSMEs to scale their ventures by leveraging existing resources such as internet connectivity, rising youth population with access to smartphones, online and mobile payments platforms etc.
Digital and Social Media platforms have introduced and socialised new ways for MSMEs to market their businesses, products, and services online including influencer marketing campaigns in partnership with social media influencers. Traditional influencer marketing platforms, however, only link influencers with businesses to marketing their products and raise their awareness and hopefully but rarely drive sales.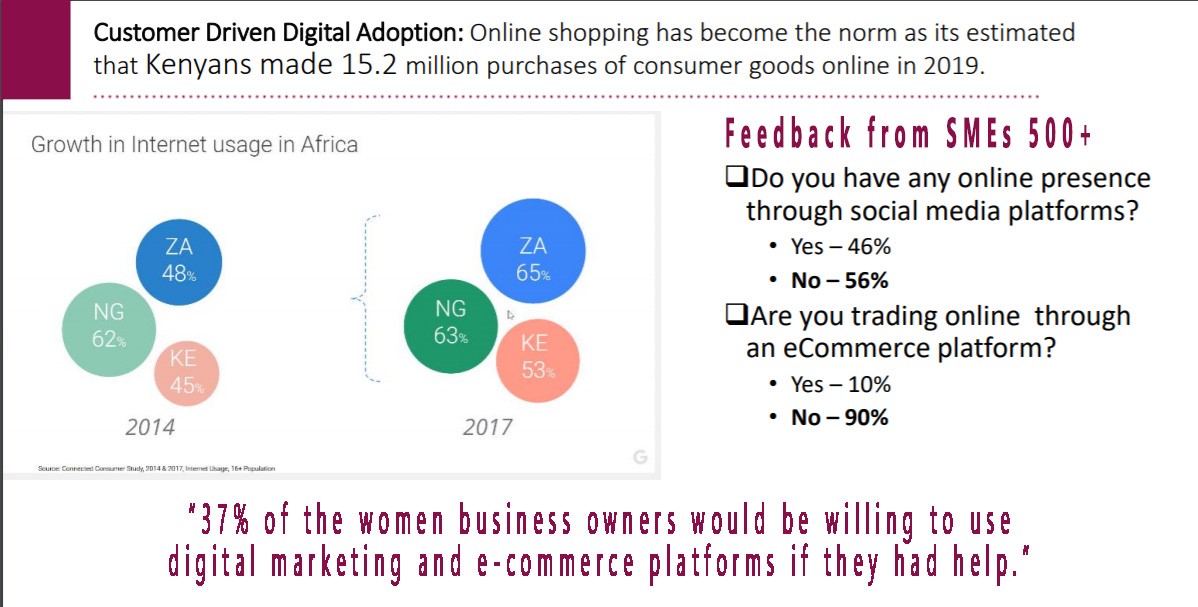 This has left many businesses struggling to measure return on investment of their influencer marketing campaigns. E-commerce platforms play a significant role in providing MSMEs access to markets. After listing on these e-commerce platforms, MSMEs, however, still need to market their products but often lack the skill set, mindset and capacity to do so, particularly online.
What are the challenges of social commerce?
Many MSMEs' owners lack the necessary digital skills to set up, competitively operate and scale their businesses on digital platforms. They will also need to navigate challenges facing the eCommerce businesses such as the lack of trust common in Kenyan online businesses.
Why is Social Commerce critical right now?
The covid-19 pandemic has shown vulnerabilities in traditional business operations without a digital footprint. With the rising usage of social media and the adoption of online shopping in Kenya, there is a great opportunity to digitize offline MSMEs. This will also be an opportunity to help social media influencers monetize their influence and gain or diversify income while harnessing the power they possess in marketing and selling products on social media platforms.
---
>> Companies Should Assess These Data Before Hiring Influencers
>> No All Influencers Have Social Currency
>> Brands Are Wasting Money on Digital Influencers
---
What is Twiva Social Commerce Platform?
Twiva social commerce platform enables MSMEs with little or no digital footprint to build an online presence at minimal cost through the provision of affordable and efficient access to consumers through social media influencers.
MSMEs list their products on Twiva, influencers select what they can sell and add these to their Twiva shops. Twiva then automates the listing of the selected products across all social media accounts belonging to the influencer. For example, if 1,000 influencers, each with 3 accounts (Facebook, Instagram, TikTok), select a product, it would be listed on 3,000 online shops within seconds without the MSME investing in an e-commerce platform.
With the Twiva platform, influencers get the job done by leveraging their influence, knowledge and engagement on the social networks for sales conversions. This model allows MSMEs to focus on what is critically timely; digitizing their enterprises for scalability and sustainability.
>> The Bad And Ugly Side Of Radio Darling, Maina Kageni