An NGO associated with Rosemary Odinga, daughter of Nasa flagbearer Raila Odinga, has been deregistered and its account with Ksh 70 million frozen.
NGO Coordination Board Executive Director Fazul Mohamed wrote to the chairperson of Key Empowerment Foundation Kenya, to say it was deregistered on August 4.
The letter obtained by the Nation also said the Central Bank had bee advised to freeze its account "with immediate effect."
He told the Nation that CBK had upheld the decision to freeze the account and that it had Ksh 70 million at the time the order was effected.
On Wednesday, a statement signed by Raila's Communications Director Dennis Onyango said the NGO applied for registration, submitted all the requirements and paid the registration fee but was yet to be issued with a certificate.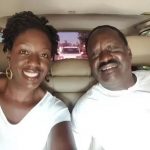 "Without the certificate, there is no way it could open a bank account and receive the monies alleged," Onyango said.
But Fazul also released a certificate of registration showing that the NGO was registered on February 15, 2016.
ALSO SEE: Raila's daughter makes it big in a snail paced business
Mr Onyango had challenged the NGO Board boss to produce it.
The frozen account, according to Mr Mohamed's letter, is domiciled at City Bank and is called Payment of NASA Presidential Agents.
"Your account is involved in political activities contrary to the provisions NGO Coordination Act and regulations," the letter reads in part.
"Your organisation is operating an i*****l bank account contrary to provisions of the Act and attendant regulations. The Central Bank of Kenya is hereby advised to freeze the said account with immediate effect," he said.
In an earlier letter dated July 31 to Central Bank Governor Patrick Njoroge, the NGO Board said the foundation received Sh530 million from the George Soros Foundation.
It further accused the NGO of accepting foreign funds to engage in subterfuge political activities globally and nefarious regime change tactics.
Onyango had countered it saying Raila's family had instructed its lawyer to start court proceedings to have Fazul declared unfit to hold public office "because of this f***d".
Mr Mohamed had also requested the Financial Reporting Centre to start investigations to ascertain the level of c******l culpability of the organisation and its directors for possible cover-up as a strategy for money laundering and diversion of donor aid.