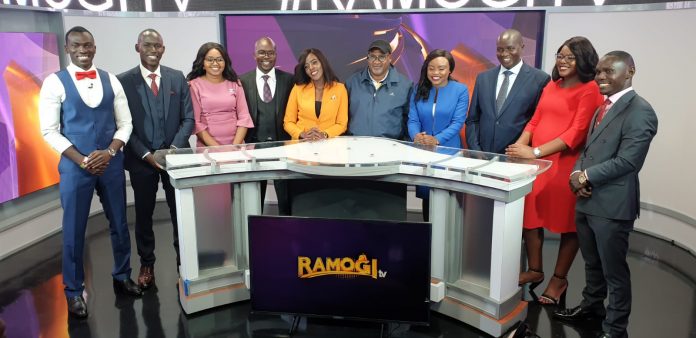 Ramogi TV on Monday, November 29 officially became the latest jewel in SK Macharia's media empire with a grand launch that was, quite literally, the talk of the town. The Luo TV station is the latest addition to the Royal Media Services (RMS) umbrella which encompasses fourteen radio stations, three TV stations, Citizen Digital and Viusasa – a video streaming platform with extra features for finding jobs, tenders and more.
Ramogi TV is only the third TV station in the RMS portfolio, with the others being overall market leader Citizen TV and Kikuyu language station Inooro TV. With Ramogi TV and Inooro TV launched in recent years based on their respective radio station brands, RMS is doubling down on its long-running strategy of reaching the mass market in local languages, with relatable content.
12 out of 14 RMS radio stations are vernacular stations. RMS pulled out all the stops for the launch of Ramogi TV. They ran weeks-long promos on their biggest platforms, put a recognizable Trevor Ombija as the face, introduced new media talent and had the biggest Citizen TV personalities talk it up.
To top it all off, former Prime Minister Orange Democratic Movement (ODM) was the first guest to be interviewed on prime time, on Thursday night. Other Dholuo speaking public figures, such as Industrialization CAS David Osiany.
The hype around the launch of Ramogi even has some Kenyans demanding that RMS launch TV stations for their vernacular languages as well – Secretary-General Edwin Sifuna was among them, calling for the introduction of 'Mulembe TV' after appearing on a morning TV show on Citizen TV with fellow Western Kenya leaders Chris Wamalwa and Didmus Barasa.
Aside from Trevor who was so far best known as an anchor on Citizen TV, presenters at the station include Joyce Oduor, George Bati, Sharon Ong'ao, Cleophas Oluoch, Lydia Okeo, Ochieng Emmanuel, Syprose Okinda and Jael Lieta.
The launch was accompanied by a flood of social media comments and debate from Kenyans.
Many welcomed its introduction highlighting the importance of creating tailored content and preserving language and culture. A section, however, complained about its current unavailability on some pay TV platforms including DSTV.
Ramogi TV is currently available on ADNL, Signet, the Citizen Digital app, Viusasa, YouTube and Facebook.
RMS has invested heavily in digital while also delivering enhanced broadcast experiences for vernacular audiences even as the media industry ponders its future in the Covid-19 era.
How Ramogi TV performs in the long run remains to be seen. Continued success could possibly see new media brands introduced for vernacular content.
Sample comments from Kenyans on its launch:
This is at another level. The level of preparedness, fashion and enthusiasm. The perfectionists. Space to watch. Great team. Cheers. https://t.co/W1p3dAQ376

— Peter Durito (@PeterDurito) November 29, 2021
I am impressed by @TrevorOmbija thum Dholuo mar atari ! 😄😄 https://t.co/Uzhno2Fs93

— Oluoch 🇪🇹🇪🇹 (@Poluoch) November 29, 2021
Am i the only one who watched the whole video ata kama si elewi anything 😂😂 https://t.co/YbBgNo35Xl

— Kwaks (@dipora_ombachi) November 30, 2021
Bwana those Ramogi TV people have even narrated an Indian movie into Dholuo. They get an A for Effort.

— Gabriel Oguda (@gabrieloguda) November 26, 2021