[dropcap]J[/dropcap]ournalists from various media houses are condoling with their colleague, Citizen TV reporter Kassim Adinasi, who on Wednesday morning took to social media to break the news of his wife's death, Ivy Keziah.
"You were a strong lady, despite everything you gave me a reason to wake up next to you every morning, you had your last breath while in my arms, have never been loved liked you loved me….Rest In Peace my Angel, God loved you more than me….till we meet again baby," Kassim posted on Facebook.
Ivy was a trained journalist with a melodious radio voice. She worked as a news producer at Urban Radio in Kisumu. She started off her career as an intern at Radio Sahara before taking up online journalism.
On Friday, Kassim had accompanied Ivy to hospital in her usual clinic visits when he met one of his friends, Alex Nyamai, on his way to work.
Alex says he had never met Ivy before and it is then that Kassim said, "Meet my lovely wife Alex, we are coming from the ANC clinic," Alex recalls Kassim doing the introduction. He says Ivy looked charming and full of life. Little did he know that he was meeting Ivy for the first and the last time.
Urban Radio boss Daniel Ominde describes Ivy as someone who did her best at work. He says despite having disability, Ivy had proven more hard working than everyone else on the team.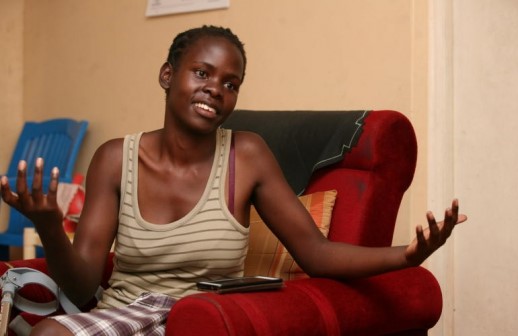 "She knew how I wanted stuff done and always did everything just like that. Her demise is a big blow to us here at Urban Radio and the media fraternity in Kisumu as a whole. I pass my condolences to her husband, family and friends," says Mr Ominde.
As a young girl in class four, Ivy was diagnosed with stage-four bone cancer. One of her legs had fractured twice and the thigh bone made a curve which caused friction between it and the knee bone. She has since then lived as an amputee having developed Osteogenic sarcoma.
Both Ivy and her husband studied at Maseno University and were a great team on the campus radio. Kassim then made his debut in the mainstream media starting off as an intern working for the Migori Daily Nation office.
He later moved to Kisumu as a correspondent for the Standard Newspaper under the then Bureau Chief Frank Otieno where he worked for one and a half year. Two years ago, he moved to Royal Media Services where he currently works as a Citizen TV reporter.