MP Shah Hospital in Nairobi is on the spot over a nearly Ksh 900,000 it is demanding from the family of a young woman who was stabbed by thugs and died under their care barely 12 hours later.
According to activist Boniface Mwangi and the lady, identified as Matilda was admitted on Wednesday 11th April at around 9.30pm and died at 10 in the morning of Thursday, 12th April.
"I have spoken to Rose, Matilda's sister who took her to @MPShahhospital. Matilda was admitted on Wednesday 11th April, night and died in the morning, Thursday, 12th April. She was a patient at MP Shah for about 12hrs. The outstanding bill is 858,355.00!" Mwangi tweeted Friday morning.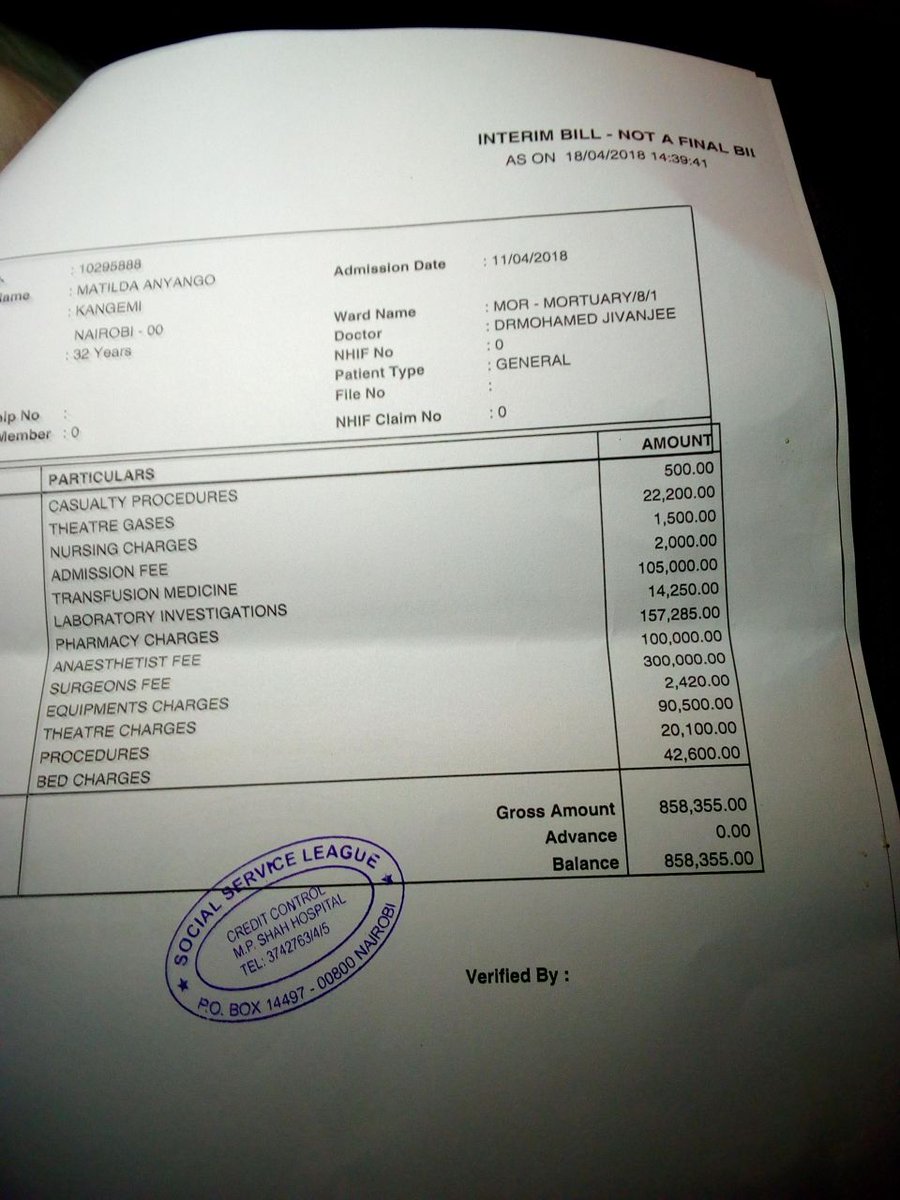 Strangely, a letter written by the hospital's management, which was posted on Twitter by a group calling itself Wanjiku Revolution, to the late woman's family to enable them set up a Safaricom Pay Bill Number indicates she is still admitted there. It is dated April 18, six days after she had passed on.
The issue has generated fire with Kenyans on Twitter (KOT) hitting out on hospitals for charging exorbitant fees and detaining deceased persons.
NA should pass a bill making it mandatory for all hospitals within Kenya to scrap in totality or waiver the amount accrued should a patient succumb during treatment! They should put a maximum statutory fee in such eventuality to help cure this extortion menace. This is nonsense!

— Sir Davies (@OlivierDavies) April 20, 2018
This is extortion of the highest order. May God forgive us all for exploiting the poor and vulnerable.

— Calvin Ouma (@OumaCouma36) April 20, 2018
Pharmacy charges. Ksh157,285.00. Kwani they gave her a whole chemist ameze yote?

— lee (@leenassir) April 20, 2018
I have never believed in MP shah,one night 42k .Transfusion of donated blood 105k.This is silent robbery

— @iyadi (@iyadi5) April 20, 2018