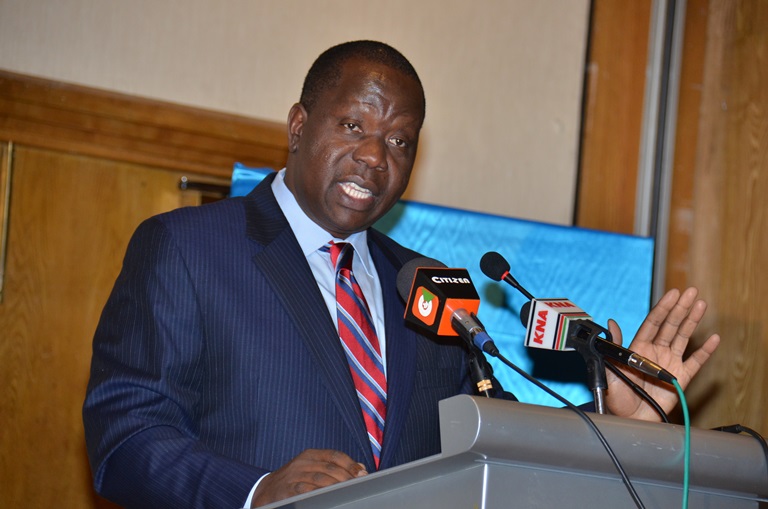 It seems like four Chinese nationals' days in Kenya have come to an end after their reaction to a late-coming Kenyan employee cost them their passports.
The Chinese, who own a restaurant in Kileleshwa, were videotaped beating up a Kenyan employee because he came late to work. The matter reached Interior Cabinet Secretary's desk and he concluded that the four had outstayed their welcome in the country.
Dr Fred Matiang'i, the Interior CS, on Thursday signed deportation orders for the Chinese nationals who had been earlier arrested because of the same matter. The announcement came just as the court granted authorities permission to detain the suspects for 15 more days pending the conclusion of investigations.
In the video landed these four in trouble, one of the supervisors was literally caning one of the workers for allegedly arriving late to work. The victim later told the police that the incident was not unique to them as the rest of the staff faces the same ordeal when they displease the Chinese supervisors.
He said the workers have always been afraid to talk about it as they feared losing their sources of income. Apparently, most of these workers depend on the restaurant to sustain their families and themselves.
With the Chinese supervisors being deported, it is not clear whether or not the restaurant will remain operational as the supervisors also double up as the owners. The employees' fears might come true if the restaurant is closed and they are left without a job.
The four Chinese nationals who were deported are Deng Hailan, Chang Yueping, Ou Qiang and Yu Ling. Officials said Deng, who was caught on video caning the unnamed employee, works at the hotel as a chef without a work permit.
When they raided the restaurant, DCI officials were looking to arrest Deng who had been videotaped assaulting the Kenyan employee. However, the officials found out that Deng's colleagues were also breaking the law and the officials had to take them all in.
The Directorate of Criminal Investigations said in its twitter handle that Chang and Ou hold expired visas. Chang, however, has a work permit while Ou does not. Yu, a cashier at the hotel, had a visitor's visa.
Following the case that went viral on social media, Chinese Ambassador to Kenya, Wu Peng has since condemned the actions of the soon-to-be-deported Chinese nationals.